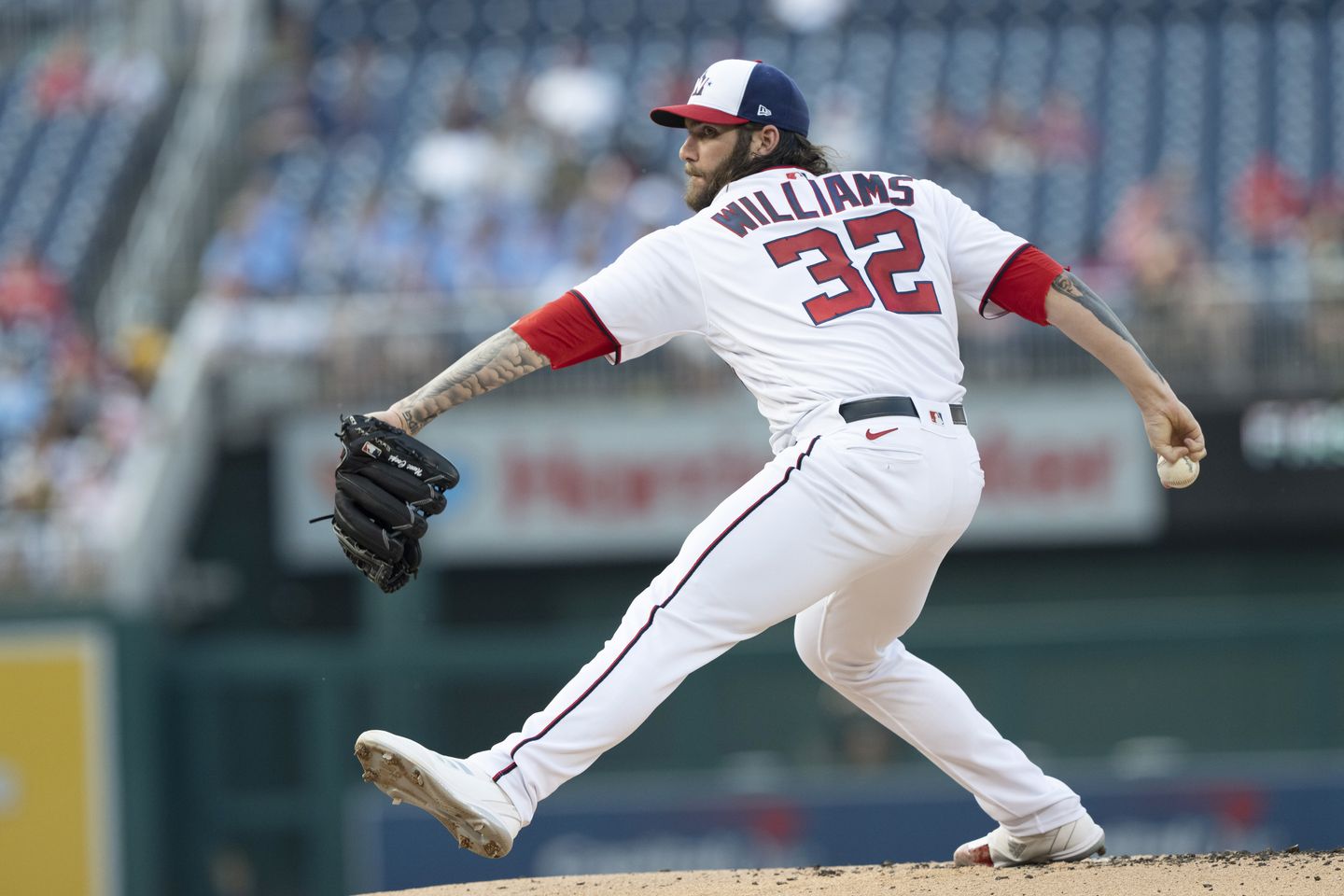 Los Angeles Dodgers pitcher Clayton Kershaw isn't the only player who has a problem with honoring the Sisters of Perpetual Indulgence.
Washington Nationals pitcher Trevor Williams said that as a devout Catholic, he is "deeply troubled" by the Dodgers' plans to present a community service award to the bawdy troupe of drag queens known for dressing as nuns and mocking sacred Catholic rituals.
"To invite and honor a group that makes a blatant and deeply offensive mockery of my religion, and the religion of over 4 million people in Los Angeles county alone, undermines the values of respect and inclusivity that should be upheld by any organization," said Williams in a Tuesday post on social media.
---
---
The Dodgers invited, then disinvited, then reinvited the Los Angeles chapter of the Sisters to be recognized at the team's June 16 game for Pride Night, landing the team in a pickle between Catholic organizations and LGBTQ groups.
"We have asked the Sisters of Perpetual Indulgence to take their place on the field at our 10th annual LGBTQ+ Pride Night on June 16," the team said in a May 22 post. "We are pleased to share that they have agreed to receive the gratitude of our collective communities for the lifesaving work that they have done tirelessly for decades."
Kershaw, the Dodgers' star pitcher, told the Los Angeles Times that he disagreed with the decision, saying "I don't agree with making fun of other people's religions," and encouraged the team to expedite its relaunch of Christian Faith and Family Night.
In his statement, Williams said that creating an environment "where one group feels celebrated and honored at the expense of another is counterproductive and wrong."
The right-handed pitcher also said it was a "clear violation of the Dodgers' Discrimination Policy, which explicitly states that any conduct or attire at the ballpark that is deemed to be indecent or prejudice against any particular group (or religion) is not tolerated."

— Trevor Williams (@MeLlamoTrevor) May 30, 2023
The Nationals were in Los Angeles on Tuesday, in the midst of a three-game series with the Dodgers.
Williams' public declaration comes with conservative Catholic groups continuing to fight the team's plan to recognize the self-described "order of queer and trans nuns," which is also a registered 501(c)3 charity and does fundraising for primarily LGBTQ causes.
CatholicVote announced a $1 million media campaign, including mobile billboards around Dodger Stadium, urging fans not to attend Pride Night, while the Catholic League for Religious and Civil Rights is reaching out to Catholic schools.
Catholic League President Bill Donohoe said Tuesday that the group is sending a four-page report on the history of the Sisters of Perpetual Indulgence to 53 schools, from elementary level to universities, under the auspices of the Archdiocese of Los Angeles.
"In the cover letter, I am asking educators to let their constituents know about our response to the Dodgers giving an award to the 'Sisters' at Dodger Stadium on Pride Night, June 16," he said in a Tuesday statement. "We are asking Catholics not to attend the game."
The Archdiocese of Los Angeles also condemned the team's decision to honor the group, saying it "clearly mocks the Catholic faith and makes light of the sincere and holy vocations of our women religious who are an integral part of our Church."



Soruce : https://www.washingtontimes.com/news/2023/may/30/trevor-williams-deeply-troubled-dodgers-honoring-s/?utm_source=RSS_Feed&utm_medium=RSS