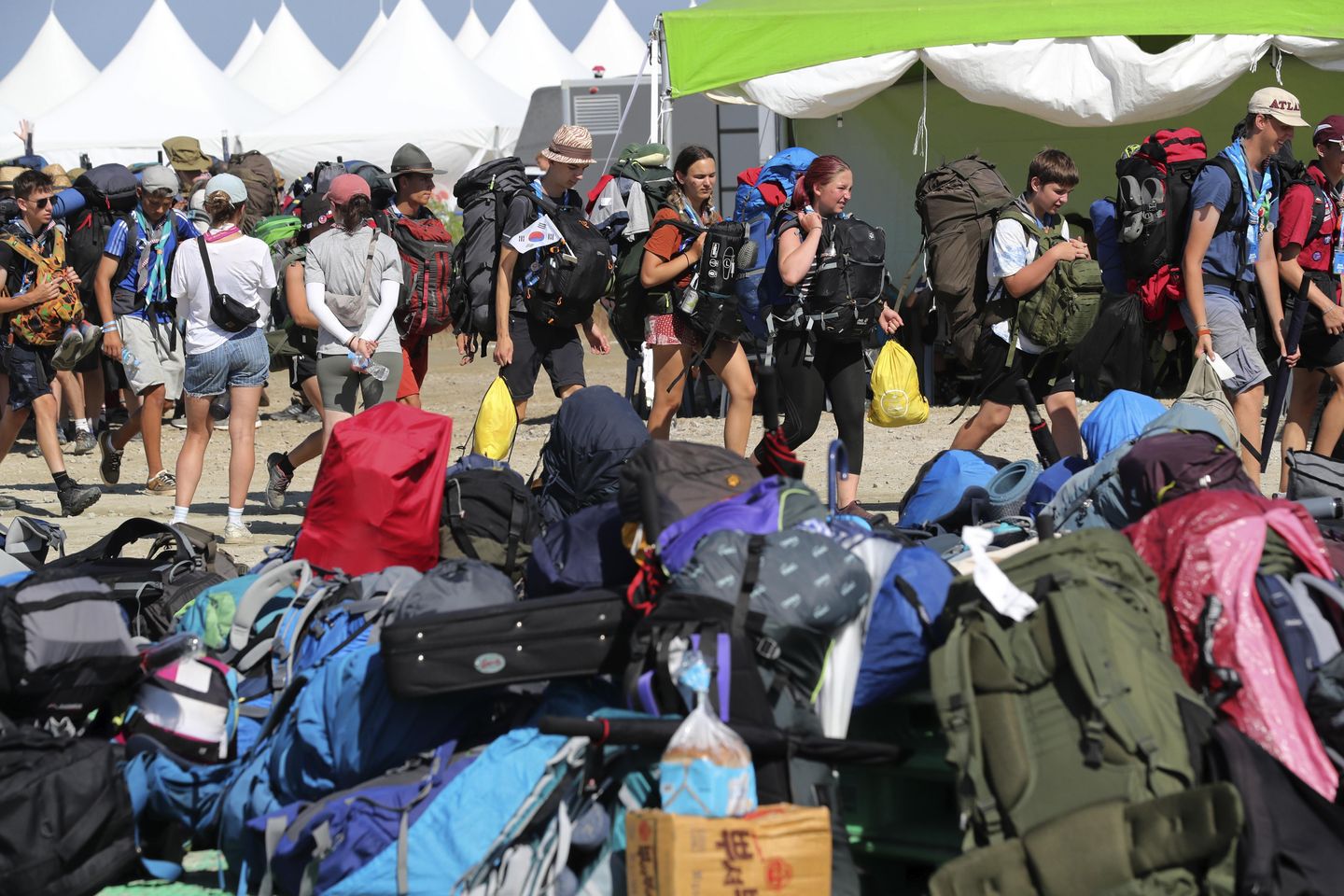 SEOUL, South Korea — Buses began moving thousands of global Scouts from their campsite on South Korea's coast to inland venues Tuesday ahead of a tropical storm that is forecast to bring intense rains and strong winds to the peninsula within days.
More than 1,000 vehicles are being used to move 37,000 Scouts – mostly teenagers – from the World Scout Jamboree that opened last week in Buan, a county on South Korea's southwestern coast. Most will be accommodated in Seoul and the capital's metropolitan area, where officials have secured university dormitories, government and corporate training centers, and hotels.
Tropical Storm Khanun has meandered around Japan's southwestern islands for more than a week, dumping heavy rain, knocking out power and damaging homes.
---
---
Early Tuesday morning, the storm was centered 350 kilometers (217 miles) south of Kagoshima, a city on the southwestern tip of Japan's main southern island of Kyushu. Khanun had winds of 108 kph (67 mph) with gusts to 144 kph (89 mph) and was moving slowly north, the Japan Meteorological Agency said.
South Korea's weather agency, which measured the storm at typhoon strength of 126 kph (78 mph), expected it to gain strength slightly before making landfall Thursday morning. It's expected to bring strong winds and heavy rains to South Korea from Wednesday to Friday.
South Korea's safety ministry instructed local officials to prepare to shut down coastal areas, hiking trails, river parks, underpass tunnels and other places vulnerable to flooding.
The Jamboree attended by scouts from 158 countries started last Wednesday at the campsite on land reclaimed from the sea, and hundreds of participants already were treated for heat-related ailments during one of South Korea's hottest summers in years. Concerns had been raised beforehand about having such large numbers of young people in a vast, treeless area lacking protection from the summer heat. Organizers said the campsite will not be used for any event after the Scouts leave.
More than 270 police cars and four helicopters were being deployed to escort the buses that began departing the site on 9 a.m., said Lee Sang-min, South Korea's Minister of the Interior and Safety. The evacuation is expected to take six hours or more.
More than 13,500 scouts will be accommodated at 64 different venues in Gyeonggi province, South Korea's largest province surrounding Seoul. About 3,100 scouts will stay in Seoul and another 3,200 will be sent to nearby Incheon. Nearly 9,000 scouts will be sent to 25 different venues in the North and South Chungcheong provinces in the country's central region, Lee said.
"Local governments are checking the sanitation of the accommodation venues and restrooms and are preparing medical measures to ensure that the (Scouts) would be safe and comfortable after they arrive," Lee said. "Police will patrol the accommodations while officials from the Korea Food and Drug Administration will carefully check the quality, quantity and safety of meals."
The announcement about the evacuations came after the World Organization of the Scout Movement said it called on South Korea to quickly move the Scouts from the storm's path and provide necessary resources for participants until they return to their home countries.
Hot temperatures have already forced thousands of British and American scouts to leave the site. The British scouts – about 4,500 – were transferred to hotels in Seoul while the American scouts, numbering about 1,000, were moved to Camp Humphreys, a major U.S. military base 70 kilometers (45 miles) south of Seoul.
"This is the first time in more than 100 years of World Scout Jamborees that we have had to face such compounded challenges," said Ahmad Alhendawi, secretary general of the World Organization of the Scout Movement, who credited South Korea's government of "mobilizing all available resources" into the relocation effort.
"It's disappointing that these adverse weather conditions have forced us to shift our plans," he said.
Copyright © 2023 The Washington Times, LLC.



Soruce : https://www.washingtontimes.com/news/2023/aug/7/south-korea-begins-evacuating-thousands-of-global-/?utm_source=RSS_Feed&utm_medium=RSS