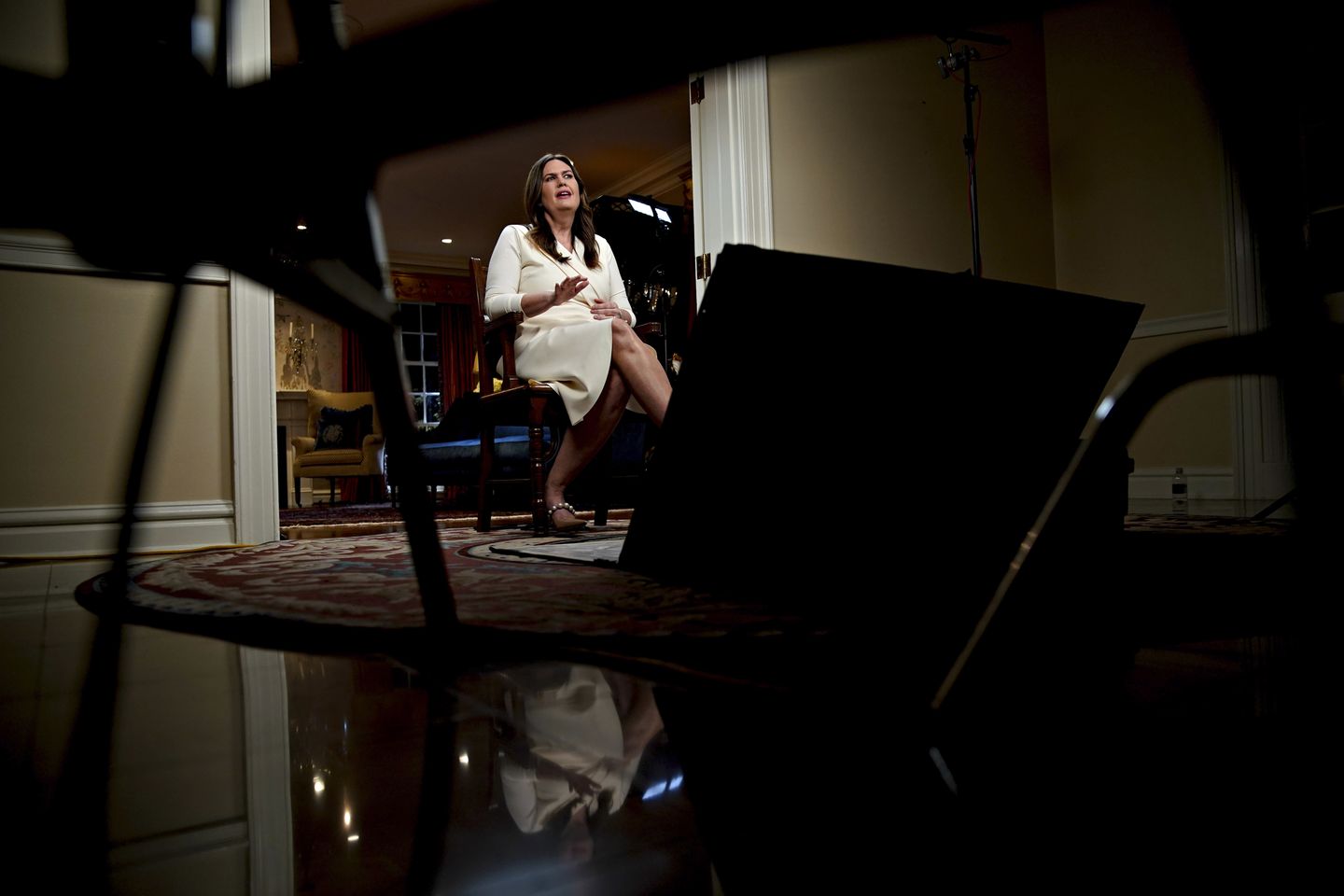 Gov. Sarah Huckabee Sanders of Arkansas on Tuesday warned that President Biden is steering the nation in a dangerous direction and seems more interested "in woke fantasies than the hard reality Americans face every day."
Delivering the Republican response to Mr. Biden's State of the Union address, Mrs. Sanders called for generational change in politics, and said, "Americans want common sense from their leaders, but in Washington, the Biden administration is doubling down on crazy."
Ms. Sanders said Mr. Biden has proven he is "simply unfit to serve as commander-in-chief" after making a mess of the economy, the southern border, and world affairs.
"Most Americans simply want to live their lives in freedom and peace, but we are under attack in a left-wing culture war we didn't start and never wanted to fight," she said.
"Every day, we are told that we must partake in their rituals, salute their flags, and worship their false idols … all while big government colludes with Big Tech to strip away the most American thing there is — your freedom of speech," Mrs. Sanders said. "That's not normal. It's crazy, and it's wrong."
Mr. Biden painted a vastly different — and more optimistic — picture earlier in the evening when delivering his speech in the House chamber.  
The state of the nation is strong, Mr. Biden said. He highlighted how the unemployment rate has hit a 50-year-low and the creation of 12 million jobs created on his watch. Inflation is going down, he said. 
Mrs. Sanders challenged the Biden take.
"Being a mom to three young children taught me not to believe every story I hear. So forgive me for not believing much of anything I heard tonight from President Biden," Mrs. Sanders said. "From out-of-control inflation to violent crime to the dangerous border crisis and threat from China. Biden and the  Demcotss have failed you." 
"They know it, and you know it, and it is time for a change," she said.
Mrs. Sanders also described the vast differences between herself and Mr. Biden.
"I am for freedom, he is for government control. At 40, I am the youngest governor in the country, and at 80, he is the oldest president in American history," she said. "I am the first woman to lead my state and he is the first man to surrender his presidency to a woke mob that cannot even tell you what a woman is."
Mrs. Sanders shared she was diagnosed with thyroid cancer five months ago and said she is now cancer free.
Mr. Biden's address received an at times raucous response from Republicans, some of who shouted him down, calling him a "liar." 
Former President Donald Trump, meanwhile, kept up a running commentary on Truth Social, criticizing Mr. Biden on various fronts, including his overuse of the word "Folks!" and his approach to border security.
Mr. Biden's second State of the Union address comes as the political world waits to see whether he follows through on his plans to run for re-election, or step aside to let someone else lead the party into the 2024 presidential race.
If he moves forward, the address offered a preview of his re-election message, and the response a preview of the GOP's plans to trip him up.
For Ms. Sanders, the daughter of former Arkansas Gov. Mike Huckabee, it marked a return to the national spotlight. 
She served for two years as Mr. Trump's press secretary, gaining a reputation as one of Trump's loyalist defenders.
The right loved Mrs. Sanders' assertive nature and willingness to mix it up with the White House press corps. The left loathed her, accusing her of repeatedly lying to the public.
That proved to be a winning combination when Mrs. Sanders returned to Arkansas to run for governor with Mr. Trump's support. The 40-year-old cruised to victory and is now considered among the party's rising stars.
Mrs. Sanders won another round of accolades from the right when, in her first act as governor, she signed an executive order banning the teaching of critical race theory in the state's public schools.
Mrs. Sanders touched on the subject in her rebuttal.
"In the radical left's America, Washington taxes you and lights your hard-earned money on fire, but you get crushed with high gas prices, empty grocery shelves, and our children are taught to hate one another on account of their race, but not to love one another or our great country," Mrs. Sanders said.



Soruce : https://www.washingtontimes.com/news/2023/feb/7/sarah-huckabee-sanders-gives-republican-response-b/?utm_source=RSS_Feed&utm_medium=RSS