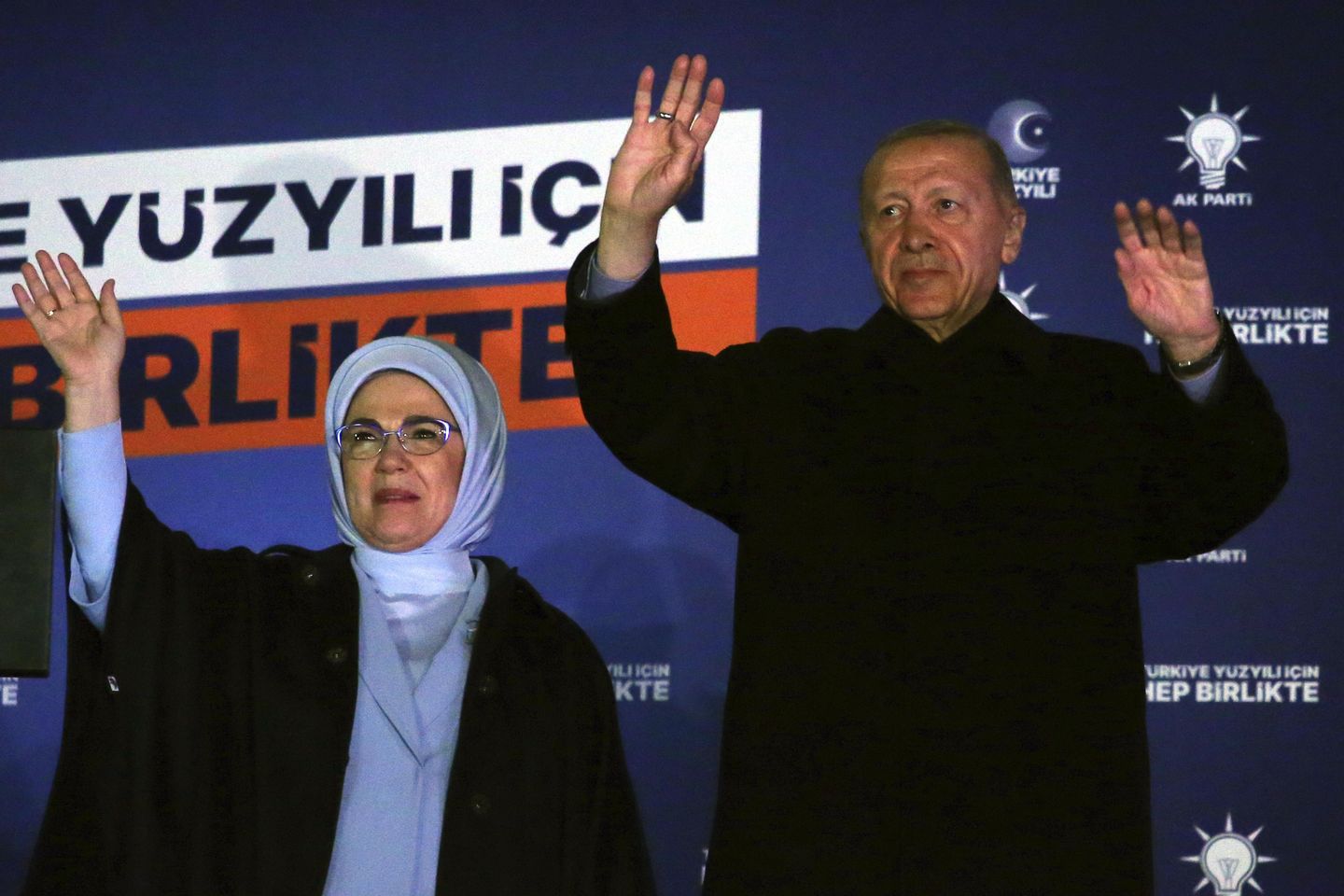 President Recep Tayyip Erdogan entered the next phase of the fiercest domestic political challenge of his two decades in power Monday, with Turkish election officials confirming that the country's presidential election is now headed for a two-candidate May 28 runoff vote.
The 69-year-old president failed to garner a sufficient enough number of ballots in Sunday's first round of voting to sail smoothly to re-election, underscoring how divided Turkey has become in the era of Mr. Erdogan's ruling Islamic party and increasingly authoritarian drift of his government.
He will now go head-to-head in a second round against his main rival, opposition leader Kemal Kilicdaroglu, a secularist who has campaigned on a promise to return Turkey to a more democratic path and to restore the country's economy, battered in recent years by high inflation and repeated currency devaluations.
Analysts have framed the contest as the most consequential election of the post-Ottoman era in Turkey, a key U.S. security partner that maintains the second-largest military in NATO.
Mr. Erdogan, who has held power since 2003 and has won more than a dozen past elections and presidential referendums, fell just short of the 50% vote threshold needed to win in the first round.
Initial counts Monday showed him with 49.5% of the vote, while Mr. Kilicdaroglu garnered 44.9%, and a third candidate, right-wing challenger Sinan Ogan, received 5.2%, according to the country's Supreme Electoral Board. Mr. Ogan on Monday gave no sign how he would ask his supporters to vote May 28.
Mr. Erdogan's ruling Justice and Development Party (AKP), along with its patchwork of ultranationalist allies separately retained its hold on Turkey's parliament — prompting predictions that he has a strong chance of winning the May 28 runoff.
The AKP and its allies secured 322 seats in the National Assembly, while the opposition won 213 and the 65 remaining went to a pro-Kurdish and leftist alliance, according to preliminary results, cited by The Associated Press.
Mr. Erdogan sought to project confidence early on Monday, telling a sea of supporters he's poised to win another five-year term as president. "I wholeheartedly believe that we will continue to serve our people in the coming five years," he said to loud cheers.
Mr. Kilicdaroglu, 74, the joint candidate of a six-party opposition alliance and the leader of the center-left, pro-secular Republican People's Party, or CHP, also sought to project confidence. "If our nation says second round, we will absolutely win in the second round," he told supporters. "The will for change in the society is higher than 50%."
The election comes amid domestic economic turmoil, criticism of Mr. Erdogan's erosion of democratic norms in Turkey and of his government's response to a massive earthquake in February that killed more than 50,000 people. Many predicted voter fatigue and economic dislocation would cost Mr. Erdogan his two-decade hold on power.
But results Monday showed the AKP dominating in the earthquake-hit region, winning 10 out of 11 heartland provinces in an area traditionally supportive of Mr. Erdogan. Mr. Kilicdaroglu and is allies won most of the coastal provinces in the west and south.
The president's opponents accuse him of consolidating authoritarian power over the past decade, cracking down on media freedom and embracing a brand of Islamist nationalism that has threatened secular democracy in Turkey. Mr. Erdogan has ruled as either prime minister or president since 2003.
Despite the criticism, Mr. Erdogan has cut a large figure on the world stage, with Turkey retaining significant influence in Europe, Central Asia and the Middle East. The Turkish president has preserved tenuous relations with Russia, while also maintaining Turkey's status as a major NATO member and key U.S. security partner.
In 2016, Mr. Erdogan survived a military coup attempt he blamed on followers of a former ally, cleric Fethullah Gulen. The attempt triggered a large-scale crackdown on the cleric's supporters and other critics, including pro-Kurdish politicians, for alleged links to terror groups.
A first-time voter, Sena Dayan, told The Associated Press on Monday that she voted in Istanbul for Mr. Erdogan and the AKP allies, saying she would have preferred an outright victory for Mr. Erdogan, but also that the runoff will prove to be an important lesson.
"Erdogan is too confident in himself but the people broke this confidence a bit by saying, 'Yes, sometimes we might not support you,' and I believe this is good for the government to look back on some mistakes and better for our future," she said.
• This article is based in part on wire service reports.



Soruce : https://www.washingtontimes.com/news/2023/may/15/recep-tayyip-erdogan-projects-confidence-despite-f/?utm_source=RSS_Feed&utm_medium=RSS