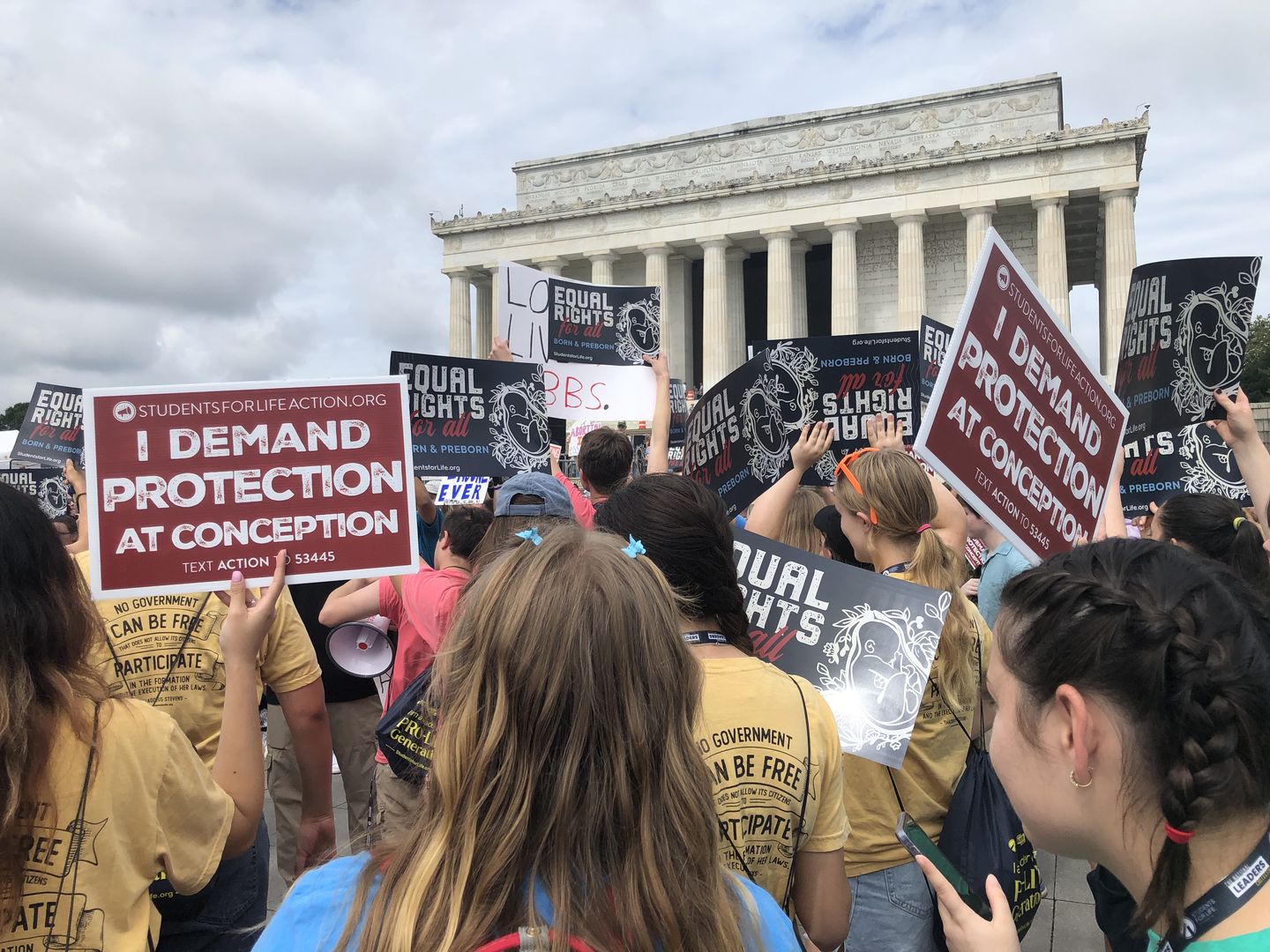 Thousands of pro-life activists rallied Saturday on the National Mall, celebrating the first anniversary of the Supreme Court overturning Roe v. Wade and calling for tighter abortion restrictions.
"One year ago today, because of your work and because of your prayers, the Supreme Court of the United States sent Roe v. Wade to the ash heap of history where it belongs," former Vice President Mike Pence, a candidate for the Republican presidential nomination, told a cheering crowd at the Lincoln Memorial.
Added Mr. Pence: "But as we celebrate the progress that we've made, we gather here knowing that we've not come to the end of this cause. We've come to the end of the beginning, and the work for life goes on."
---
---
Participants braved muggy heat to attend the first National Celebrate Life Day, which ranged in tone from patriotic celebration to church service.
After singing the gospel protest song "We Shall Overcome" and the national anthem, activists broke into spontaneous chants of "USA, USA, USA."
"We're here to celebrate," said Caitlyn Guajardo, a 32-year-old who traveled from Victoria, Texas with her 16-year-old sister Elizabeth. "But now we've got 50 individual battles to fight."
Last June 24, the Supreme Court ruled 6-3 in the landmark Dobbs v. Jackson Women's Health case to strike down Roe, returning jurisdiction over abortion to the states.
Since then, 25 states have moved to restrict abortion at various stages of pregnancy, while the other half have moved to expand access.
Mississippi Attorney General Lynn Fitch, a Republican, discussed how she and other state officials brought the "Mississippi Dobbs case" to the nation's highest court.
"Now we all hoped, and we have prayed, that the justices would hear our very undeniable arguments that were so powerful to get them to the point to overturn Roe v. Wade," Ms. Fitch told the crowd.
Other rally speakers gave religious, legal and scientific reasons to push Congress for a federal abortion ban in the wake of Dobbs.
The moral basis for offering equal legal protection to a fetus in the womb from the moment of fertilization of an egg comes from "the fact that we are made in the image and likeness of God," said Michael Knowles, a political commentator at the conservative Daily Wire.
"I'm all for states' rights," Mr. Knowles told the crowd. "But no state has the right to murder."
Congressional Republicans are at odds over whether to push for a total ban on all abortions floated by some members of the conservative House Freedom Caucus or a federal minimum standard at 15 weeks of gestation, with exceptions for rape, incest, and threats to the life and physical health of the mother.
Mr. Pence supports the latter, which Sen. Lindsey Graham, South Carolina Republican, introduced as a bill last year.
"Save the babies and we will save America," Mr. Pence said Saturday.
No pro-life bill the GOP-led House passes seems likely to pass the Democrat-controlled Senate. President Joe Biden, a Democrat, has also pledged to veto any abortion restrictions that make it to his desk.
Polling has consistently shown that most Americans favor a middle ground on abortion, keeping it legal up to 15 weeks of pregnancy with some restrictions — and illegal after that only with some exceptions.
In addition, recent polling suggests pro-choice voters are more motivated than pro-life voters to support a candidate based on abortion views a year after Dobbs.
That didn't matter to the young activists who gathered Saturday at the Lincoln Memorial. They have called on congressional Republicans to support additional federal abortion restrictions regardless of what it costs them politically.  
"We want a total ban on abortions," said Jenna Gibson, a 20-year-old rising junior who leads a chapter of Students for Life of America at Christopher Newport University in Virginia. "Everyone deserves a voice."
Roughly 2,000 people were expected to attend the Lincoln Memorial rally, according to estimates pro-life organizers provided on their National Parks Service permit application.
On the other end of the National Mall, the pro-choice Women's March National Day of Action also received a parks service permit for 2,000 people to march from Columbus Circle to the Supreme Court at noon.
"The truth is that the overwhelming majority of Americans believe that people should have the freedom to decide what to do with their own bodies, how to make critical family planning decisions, to choose who we love and marry, the list goes on," said Rachel O'Leary Carmona, executive director of Women's March.
Smaller groups of pro-life activists gathered earlier Saturday morning at the Supreme Court and for an afternoon prayer and worship rally outside the U.S. Capitol.
It's unlikely Congress will get serious about a total ban until House Republicans investigate the illegal late-term abortions that activists say happen routinely across the country, said Terrisa Bukovinac of the Progressive Anti-Abortion Uprising, which organized the morning rally at the Supreme Court.
In March 2022, her group handed over five fetuses stored in a Capitol Hill home to the Metropolitan Police Department, claiming they received them from a waste delivery driver at a local abortion clinic.
Nearly 100 Republican members of Congress subsequently signed letters to Mayor Muriel Bowser, the police department and U.S. Attorney General Merrick Garland to demand autopsies of the bodies, without success.
"I don't know anyone in the pro-life movement who doesn't want a total abortion ban," Ms. Bukovinac told The Washington Times. "Of course, it's mobilizing the voter base on the other side. It's not going to happen right away."



Soruce : https://www.washingtontimes.com/news/2023/jun/24/pro-life-activists-celebrate-life-one-year-after-d/?utm_source=RSS_Feed&utm_medium=RSS