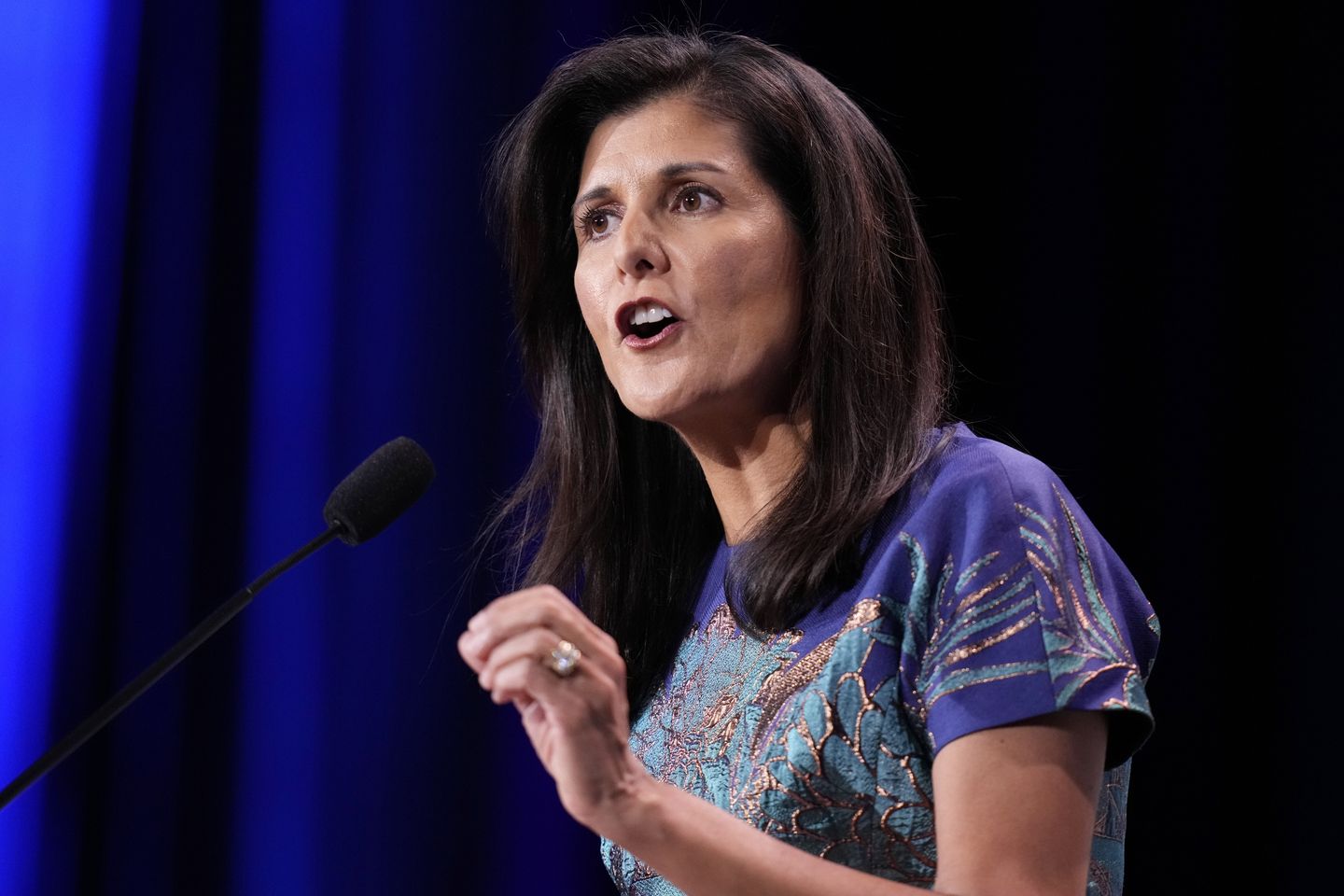 Former United Nations Ambassador Nikki Haley is inching closer to running for the 2024 GOP presidential nomination.
Mrs. Haley, who served as governor of South Carolina before joining former President Trump's administration, took to Fox News to share her latest thinking on the Republican race, saying she has the potential to lead the party into the next election.
"When you are looking for a round for president you look at two things," she said in an interview Thursday night. "You look at: Does the current situation push for new leadership? The second question is: Am I that person who could be that new leader?"
"Yes, we need to go in a new direction, and can I be that leader? Yes, I think I can be that leader," the 51-year-old said.
The Republican nomination race started to take shape last year after Mr. Trump announced his plans to run a third time for the White House.
Mr. Trump had expected the launch to come on the heels of a red wave in the midterms. The party, however, failed to meet expectations after untested Trump-backed contenders fell in key Senate races and the House GOP netted fewer seats than anticipated.
Mrs. Haley's comments suggest Mr. Trump's early announcement has not scared away possible rivals. 
She had said she would not run if Mr. Trump seeks another term in office, but has changed her tune in the wake of the disappointing 2022 midterm elections, which some in the party have blamed on Mr. Trump.
Mrs. Haley, in her interview on Fox, highlighted the record of accomplishments she compiled as governor from 2011 to 2017, then as ambassador to the U.N., where she served for nearly two years.
"So do I think I can be that leader? Yes," she said. "I have never lost a race. … But stay tuned."
A Morning Consult poll released this week found Mr. Trump is the preferred pick of 48% of GOP voters, followed by Gov. Ron DeSantis of Florida, 31%, and former Vice President Mike Pence, 8%.
Mrs. Haley barely registered, coming in at 2% alongside Sen. Ted Cruz of Texas. Former Rep. Liz Cheney of Wyoming received 3%.
The survey suggested a lot of GOP voters are unfamiliar with Mrs. Haley.
While 44% of potential GOP primary voters said they have a favorable opinion of her, 28% said they had never heard of her and 19% said they have no opinion.



Soruce : https://www.washingtontimes.com/news/2023/jan/20/nikki-haley-teases-2024-presidential-plans-i-can-b/?utm_source=RSS_Feed&utm_medium=RSS