An approaching storm system could potentially cause flash flooding in some locations Friday, part of an unsettled weather pattern set to grip the Chicago area in coming days.
According to a hazardous weather outlook published by the National Weather Service, Friday's risk of severe weather has largely diminished, but any showers and thunderstorms that do form could potentially cause "monsoonal downpours" in the morning and afternoon hours.
Those downpours could dump several inches of rain in a short amount of time, leading to the possibility of flooding in low-lying areas.
During those showers and storms, brief funnel clouds or even tornadoes could potentially form, according to forecasters, and area residents are urged to remain cautious and alert during the afternoon hours.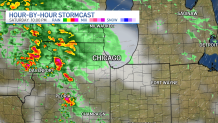 Damaging winds of up to 60 miles per hour could also occur in isolated areas, along with a limited risk of hail from the storms.
After a largely quiet Saturday, with some showers possible late in the day, more widespread rain could arrive in the area for Sunday. Some thunderstorms could potentially form, and hazardous conditions could be possible for boaters on Lake Michigan, according to forecast models.
Temperatures will also cool off heading into Sunday, with highs in the low-to-mid 60s, but highs could warm back into the 70s early next week.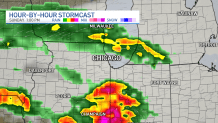 Soruce : https://www.nbcchicago.com/weather/monsoonal-downpours-possible-in-chicago-area-friday-as-unsettled-pattern-emerges/3139557/