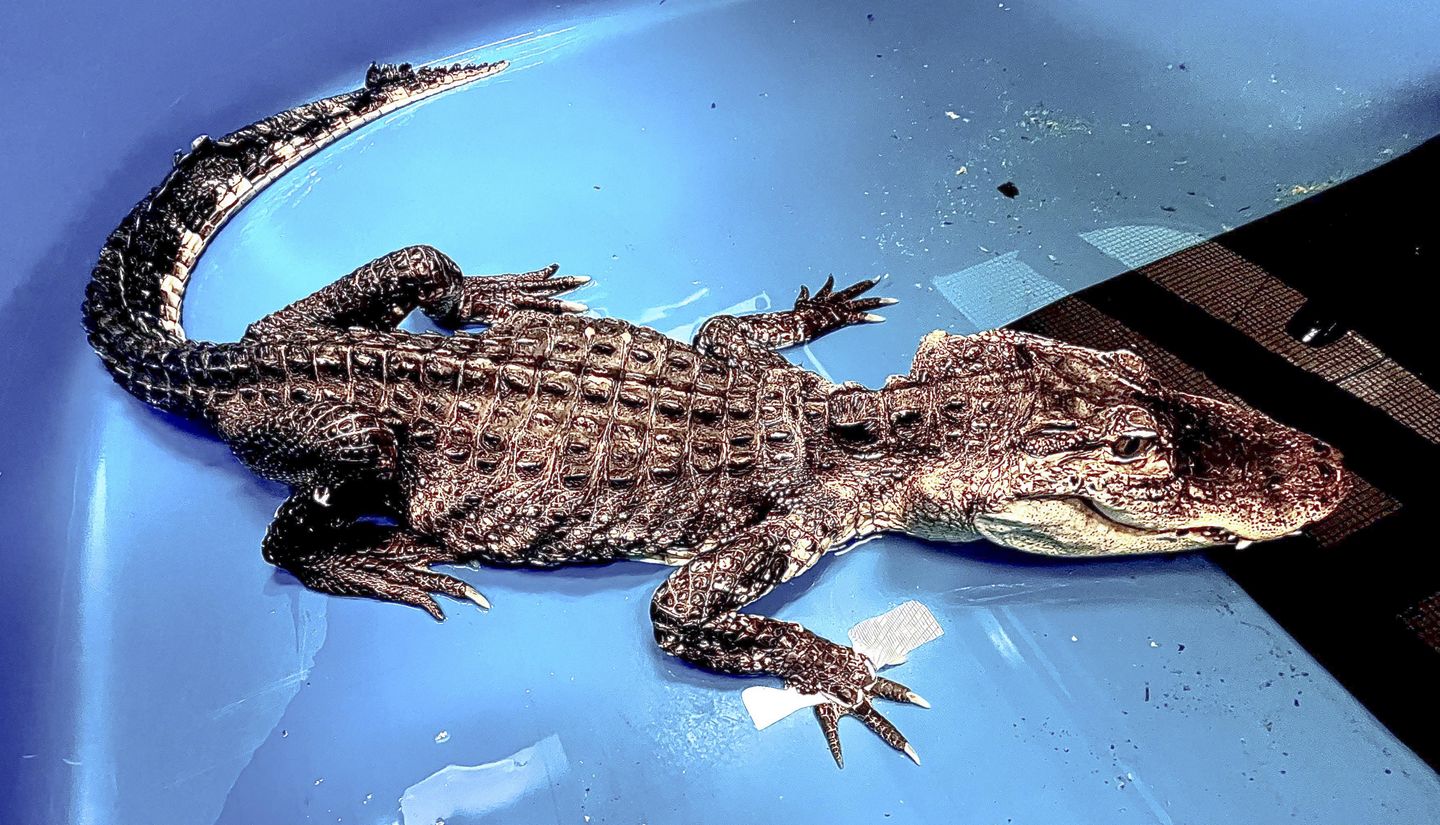 A woman in Romulus, Michigan, had an odd reptilian encounter this week when she spotted an alligator wandering around outside near her back patio.
The Romulus Police Department recounted the saga in a pair of Facebook posts. The woman called police, unsure if the reptile was an alligator or crocodile — and then provided a photo to police when they were skeptical. 
The photo, reposted by RPD, shows the small reptile with its mouth bound out on the woman's back patio. Police withheld her name, address and the date of the incident on her request.
---
---
A post on Facebook from Animal Magic in Belleville, Michigan, the non-profit animal rescue that helped RPD corral the reptile, said the encounter occurred on Sunday.
Subsequent investigation found that the reptile's rounded snout marked it as an alligator instead of a crocodile. The gator was retrieved by and is now in the care of Animal Magic, which excoriated its presumed former owner for forcing the reptile's mouth shut and irresponsibly keeping it as a pet.
"We were told the alligator is 3-4 feet, but is actually only 2.5 feet. Why are some people so stupid and have no compassion towards animals? This poor animal didn't ask some moron to keep him as a pet. Nor did it ask to have its mouth tied shut and thrown outside to die," Animal Magic wrote.
The gator encounter was not the first time RPD had collected an alligator. However, it had been many years since the last instance, as owning alligators is illegal in Romulus, police said.
Experts with Animal Magic determined the reptile, which they named "Navigator," is a young specimen and likely a former pet.
"This guy did not come out of the wild. This, I'm going to guess, came from a pet shop or was smuggled back from Florida. We'll never know. He can't talk, so we'll never know the story behind him," Animal Magic rehabilitator Mark Rosenthal told WDIV-TV.
Once the gator grows more, up to seven and a half feet or so, it will be moved from the sanctuary to a licensed zoo.
Navigator, he said, never should have been a pet to begin with, and neither should other gators.
"Nobody in the history of the world has ever raised up an alligator or a crocodile to an adult and kept it friendly," Mr. Rosenthal said to WDIV-TV.
As of Thursday, RPD officers were still investigating who released the alligator and who tied its mouth.
"We don't know where it came from or how it got there," RPD Deputy Chief Derran Shelby told USA Today.



Soruce : https://www.washingtontimes.com/news/2023/aug/26/michigan-woman-spots-alligator-wandering-outside-h/?utm_source=RSS_Feed&utm_medium=RSS