The Chicago area is bracing for winter weather as a Winter Storm Warning and Advisory now in effect across the city and suburbs is expected to bring mixed precipitation in the form of sleet, ice cover, winds up to 40 miles-per-hour and heavy snow accumulations throughout the region.
According to the NBC 5 Storm Team, the highest snow accumulations will be across Northern Illinois. However, the storm is likely to create hazardous driving conditions throughout the region, with both the morning and evening commutes impacted in some parts.
Additionally, severe weather across the country in the form of snow to the west and tornadoes to the south is already snarling air travel, with cancellations starting to stack up at Midway and O'Hare International Airports.
Here's the latest on timing and predicted snow totals as the storm moves through the Chicago area.
Storm Timing
In Lake and McHenry counties, where a Winter Storm Warning remains in effect until 9 p.m., snow is expected to fall throughout the day, beginning with the morning commute.
Additionally, forecast models showing a light glaze of ice accumulation up to one tenth of an inch, and winds gusting as high as 40 mph could create dangerous driving conditions.
According to the NWS, "hazardous conditions will likely impact the morning and afternoon commutes," in McHenry County, while the weather conditions in Lake County "will likely impact the afternoon commute."
Across the region, in Lee, DeKalb, Kane, LaSalle, Kendall, DuPage, Grundy, Cook and Will counties, a wintry mix in the form of sleet and freezing rain will start to pick up between 6 a.m. and noon.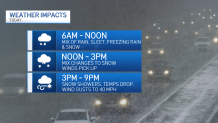 Between 12 p.m. and 3 p.m., the wintry mix is expected to change over to snow, the NBC 5 Storm Team says. Additionally, winds will begin to pick up, and temperatures will begin to drop into the mid 30s.
In Kankakee County however, much of the precipitation is expected to remain in the form of rain and freezing rain.
Additionally, a Lakeshore Flood Advisory for Northern and Central Cook Counties in Illinois as well as Porter County in Northwest Indiana will go into effect at 3 p.m., the NWS says, with waves of up to 10-to-14 feet possible, and the potential for minor lakeshore flooding.
Between 3 p.m. and 9 p.m., widespread snow is expected, and wind gusts up to 40 mph creating blowing snow could lead to poor driving conditions and ow visibility.
Thursday night, the snow is expected to gradually come to an end but the winds will remain, the NBC 5 Storm Team says. Friday is expected to be cold and sunny, with temperatures in the upper 20s.
Predicted Snow Totals
Forecast models show the highest snowfall amounts are expected to occur in northern Illinois, near the Wisconsin state line and in McHenry and Lake counties, where accumulations could be upwards of six inches.
According to the NBC 5 Storm Team, some isolated areas could see closer to seven inches.
In Cook, DuPage and DeKalb counties, snow totals are expected to remain between one and four inches.
As of Thursday morning, here's a breakdown from the NBC 5 Storm Team of predicted snow totals. Note that these totals are subject to change as forecast models continue to shift:
Rockford: 6.3 inches
Woodstock: 6.1 inches
Waukegan: 7.1 inches
DeKalb: 3.5 inches
DuPage: 3.1 inches
Executive Airport: 3.4 inches
O'Hare Airport: 3.9 inches
Midway Airport: 3.4 inches
Aurora: 2.3 inches
Romeoville: 1.7 inches

Soruce : https://www.nbcchicago.com/weather/as-winter-storm-moves-in-heres-how-much-snowfall-chicago-could-see-and-when/3074178/