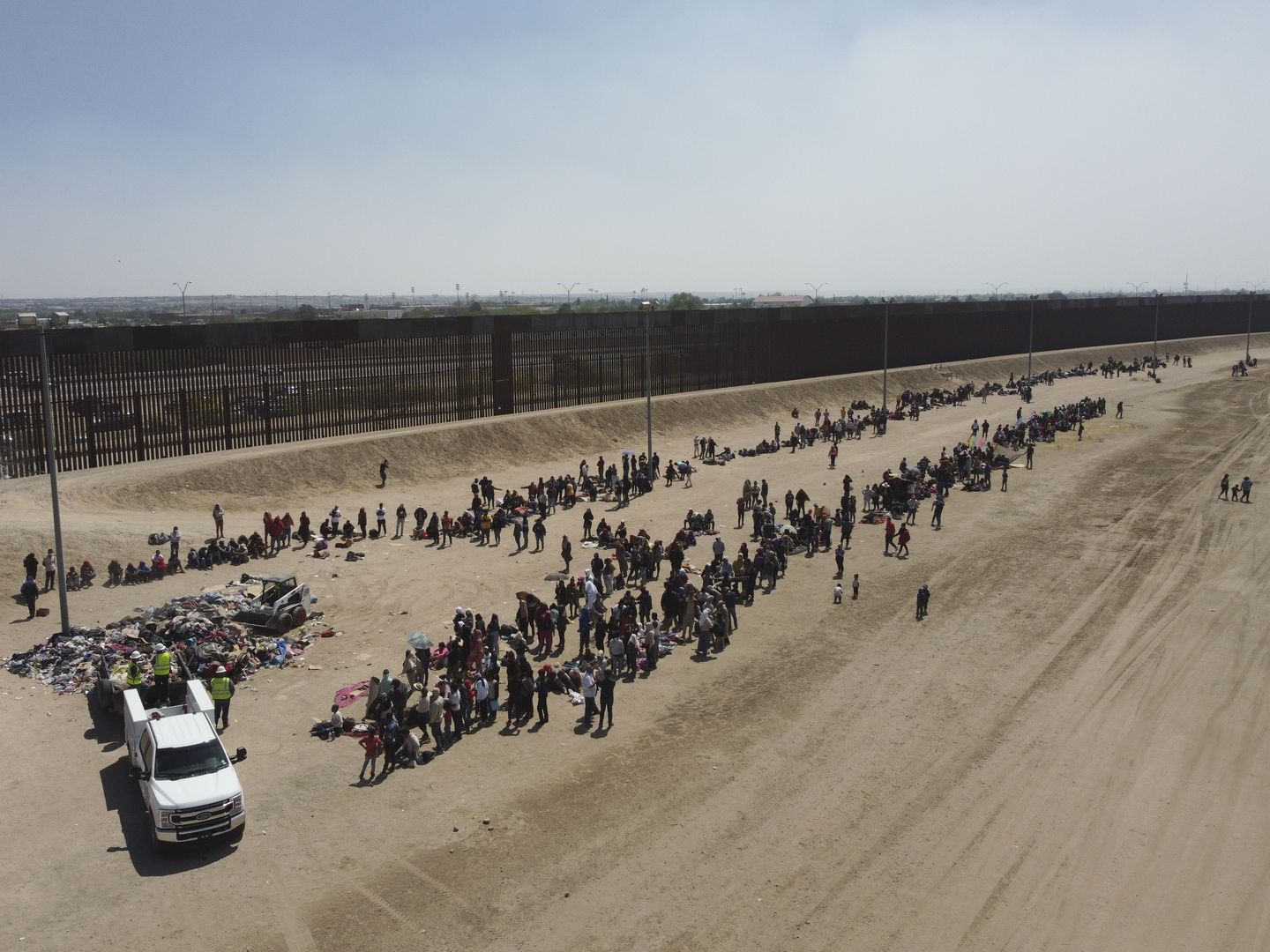 Democratic discontent over the chaotic border grew Wednesday, with a rising party star accusing President Biden of failing to move quickly enough to head off the current surge of illegal immigrants.
Rep. Collin Allred, who made waves last week by announcing he would challenge GOP Sen. Ted Cruz, said Texas towns are "in danger of being overwhelmed" and said the crisis "never should have come to this point."
Biden officials, meanwhile, sought to regain control of the narrative, announcing the first 550 new military troops have deployed to the border. They also finalized a new regulation that erects hurdles for asylum-seekers, hoping to reduce the lure for some of the thousands of illegal immigrants surging into the U.S. each day.
And Homeland Security Secretary Alejandro Mayorkas announced a new advertising campaign urging would-be migrants to stay home and apply to come to the U.S. from there, rather than head to the border.
The moves came a day before the administration loses its most important border tool, the Title 42 expulsion authority that since the start of the coronavirus pandemic had allowed officials to turn back some illegal immigrants at the boundary.
Migrants have massed in Mexico, waiting for the chance to rush the border. And some aren't even waiting. The Border Patrol said it arrested roughly 9,000 illegal immigrants per day over the weekend, or more than twice the average it was arresting just weeks ago.
Customs and Border Protection detention facilities were overflowing and officials were plotting how to go about catching and releasing the newcomers.
Against those headwinds, Mr. Mayorkas pleaded for patience.
"Our plan will deliver results, but it will take time for those results to be fully realized," he said.
That was too little, too late for a growing number of critics — including Mr. Allred.
He said the new troop deployments and plans to open welcome centers in Latin America were good news, but they don't do much to solve what Texas is seeing on the ground right now.
"These initiatives are a beginning, not a fix," he said.
Arizona Gov. Katie Hobbs, another Democrat, also chided the administration this week for lacking an "adequate response." She said "more robust action" is needed.
And Sen. Kyrsten Sinema, an Arizona independent who caucuses with Democrats, said the administration "had two years to prepare for this and did not do so."
"There will be a humanitarian crisis because we are not prepared," she said in an interview with CBS.
Mr. Mayorkas has repeatedly said he is prepared for the end of Title 42 and has had plans in place for a year.
But those assurances were undercut by the rush of last-minute announcements.
Homeland Security and the State Department said Wednesday that they plan to open more than 100 welcome centers in Latin America to try to encourage migrants to schedule border crossings, rather than show up and cross on their own with the help of smugglers. Yet none of the centers is open right now.
The administration had also announced it would send 1,500 new active-duty military personnel to the border to alleviate pressure on border agents and officers, but the majority of them are still not there.
Administration officials also rushed to train asylum officers on the new rule they finalized that would erect hurdles for the new arrivals who want to claim asylum.
The regulation, finalized by Homeland Security and the Justice Department, would create a presumption against asylum for migrants who left their homes and traveled through other countries to reach the U.S.
The reasoning is that if they were true refugees, they would have stopped in the first safe country they came to, but by continuing to the U.S. they demonstrated they were more akin to traditional migrants seeking better jobs or reconnecting with family. Neither of those is considered a valid reason for asylum.
Migrants can surmount the new rule either by pre-scheduling their border crossing or by proving they had an exceptional hardship. Unaccompanied children have a blanket exception to the new rule.
Immigrant rights advocates blasted the president for the rule, calling it a reversal of his 2020 campaign pledges and an embrace of "xenophobic" Trump-era policies.
"The asylum ban will directly endanger and threaten people's lives, and violates the international humanitarian obligations of the United States," said Murad Awawdeh, executive director of the New York Immigration Coalition.
But Rob Law, a former senior official at U.S. Citizenship and Immigration Services, said the issue isn't that the new policy is too harsh — in fact, it's too lenient.
"Making it 'harder' to qualify for asylum is irrelevant because as long as illegal aliens can continue to make claims at the border, they will continue to be released into American communities where they have 5-10 years' head start to disappear," said Mr. Law, who is now director of homeland security and immigration at the America First Policy Institute.
The new policy takes effect Thursday night when the Title 42 expulsion power expires.
Mr. Mayorkas said the change is designed to try to force migrants to change their behavior and use legal pathways to enter the U.S.
He said the administration has opened up new avenues, including an expansive use of parole powers, to create chances for hundreds of thousands of new migrants a year.
Mr. Mayorkas said his department has also become more efficient at processing people, has opened new short-term border detention facilities and has increased the number of planned deportation flights.
He said some illegal immigrants will be given the chance to choose a "voluntary return," which is a process short of formal deportation. Those who choose a return will be sent back to their home country, but without the consequences of a five-year bar on coming in again legally, and without the threat of a felony charge if they try to jump the border again.
Still, Mr. Mayorkas acknowledged in a press conference Wednesday that many migrants will still be caught and released.
He said that's been a regular practice across many administrations.
The difference is the scale under Mr. Biden.
Customs and Border Protection recorded 1,544,087 encounters with unauthorized migrants from October through March. Mr. Mayorkas said his department expelled, removed or returned 665,000 of them.
That means roughly 53% were caught and released by CBP.
Mr. Mayorkas blamed Congress for the state of affairs, saying lawmakers have failed to pass legislation to give him the tools and resources he wants to deal with the flow of people. 
Mr. Biden reiterated that view Wednesday during a visit to New York state.
"We've had chaos at the border for a number of years," the president said. "We have to fully fund the border security effort."



Soruce : https://www.washingtontimes.com/news/2023/may/10/joe-bidens-last-minute-border-moves-fail-quell-ris/?utm_source=RSS_Feed&utm_medium=RSS