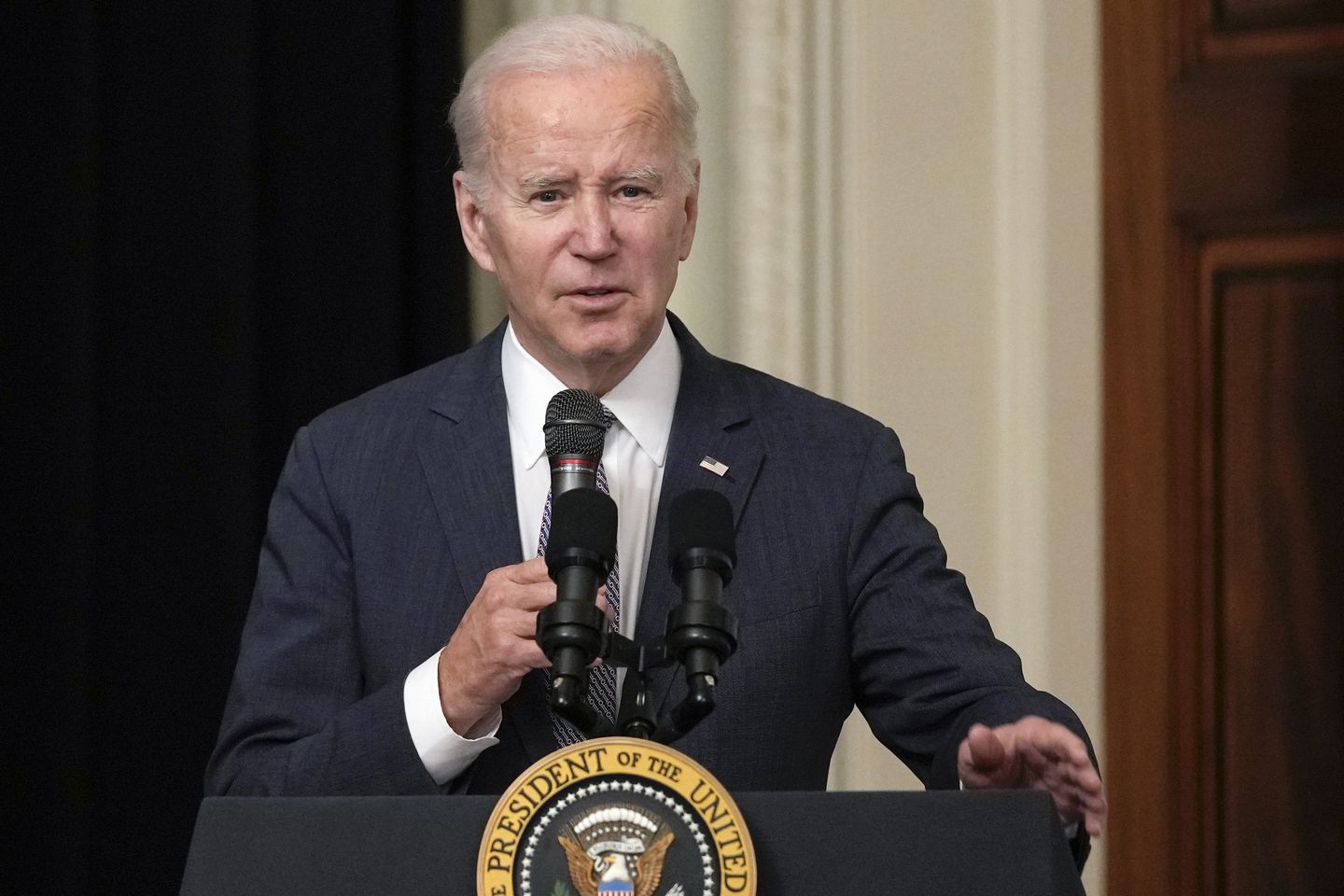 President Biden will touch down in Poland on Tuesday armed with a message of unwavering support for Ukraine as the war against Russia becomes an increasingly tough sell to the American public and a GOP-led House.
Mr. Biden has pledged to back Ukraine for "as long as it takes," but polls show waning support among voters and lawmakers who are questioning why the administration is sending tens of billions of dollars worth of military and economic aid to Kyiv. 
The two-day trip includes a one-on-one meeting between Mr. Biden and Polish President Andrzej Duda in which the two leaders will discuss the U.S. and Poland's bilateral efforts in support of Ukraine. Mr. Biden will also meet with leaders of the group of NATO's easternmost allies known as the Bucharest Nine to reaffirm U.S. support for the alliance.
And the president will deliver remarks from the Royal Palace in Warsaw, where he is expected to once again rally European allies in support of Ukraine and offer his oft-repeated assurances that NATO will "continue to stand with the people of Ukraine for as long as it takes."
Some Republicans have voiced skepticism or outright resistance to U.S. aid for Ukraine, and those calls have only amplified as the White House acknowledges there is no end in sight for Ukrainian forces to drive out the Russian invaders.
House Minority Leader Kevin McCarthy, California Republican, warned in October that Congress would not provide a "blank check" for Ukraine.
Even some in Mr. Biden's party are raising questions about the war effort.
Liberal House lawmakers last fall urged Mr. Biden in an open letter to push more assertively for peace talks, a clear break with the president.
The lawmakers suggested that Mr. Biden would have strong Democratic support for aid to Ukraine if he followed their advice and urged the president to "pair the military and economic support the United States has provided to Ukraine with a proactive diplomatic push."
The letter, which the lawmakers withdrew amid swift backlash from their colleagues, marked the first indication that unanimous support within the Democratic Party for Mr. Biden's Ukraine policy could be at risk unless future funds come with diplomatic demands.
It is against that backdrop of skepticism that Mr. Biden must make the case for the U.S. to stand with Ukraine indefinitely. His argument comes at a critical time in the war, because Russia is expected to launch a major offensive aimed at reclaiming lost territory in Ukraine.
Adrian Kubicki, Poland's Consul General in New York, says his country serves as a fitting backdrop for Mr. Biden's message of resolve.
"We understand probably better than any other nation in the world why it is important to continue that support to Ukraine, for however long the war might last," Mr. Kubicki says.
National Security Council spokesman John Kirby emphasized on Friday that the president's trip comes "at an important moment" and amid a changing European security landscape in light of Russia's invasion.
Poland is viewed as a symbolic setting for Mr. Biden's efforts. The war has drawn thousands of U.S. troops to Poland, a training hub for NATO forces in the region and the first line of defense should Russia's invasion extend westward.
Poland has also taken in nearly 1.5 million Ukrainian refugees since the start of the war, outpacing those who have fled to other countries throughout the EU.
But Mr. Kubicki said continued support for Ukraine must be a joint effort by the international community — a message that is becoming more urgent as fatigue sets in among allies.
"It's even more important that President Biden, as he speaks to Polish people, speaks also to the American people and to those in other countries that are a little bit hesitant and becoming indifferent to what is happening in Ukraine," he said.
Support for continued military assistance to Ukraine has begun to soften among the American public as the war reaches the one-year mark.
Congress approved roughly $113 billion in economic, humanitarian, and military aid for Ukraine in 2022.
According to a new poll from The Associated Press-NORC Center for Public Affairs Research, 48% percent of Americans say they support the U.S. continuing to provide weapons to Ukraine, while 29% say they oppose and 22% neither favor nor oppose continued weapons shipments.
That is down from 60% who said they were in favor of the U.S. sending weapons in May 2022, less than three months into the war.
Just 37% of Americans favor sending government funds to Ukraine, while 37% oppose and 23% neither favor nor oppose, according to the poll.
Just 26% of those polled say the U.S. should play a "major" role in the conflict between Russia and Ukraine, down from 40% in March 2022. Forty-nine percent say the U.S. should still play a "minor" role in the war. Almost a quarter of the public says the U.S. should not have a role at all.
Fractures have also emerged among both parties in Congress over continued support for the war effort.
Most Republicans continue to support funding Ukraine, despite calls for greater oversight to ensure U.S. weapons make it to the front lines and American taxpayers' dollars siphoned by corruption.
But some dissenting voices have taken root within the party.
On Thursday, Sen. Josh Hawley, Missouri Republican, warned that the U.S. risks losing focus on the looming threat posed by China as the country wades deeper into Ukraine.
"Ukraine or China. We can't do both at the same time," he said. The European Union "must take the responsibility for Europe."
He warned that the West now stands at "an inflection point" and that "if China invades Taiwan, they would prevail."
"The price-hikes, the supply chain disruptions that we've experienced in the last two years, those will pale by comparison. Product shortages will become commonplace," Mr. Hawley warned should China conquer Taiwan. "We're talking about everything from basic medicine to consumer electronics."
Others within the Republican Party have sought to tamp down the perceived division within GOP ranks over continued support for Ukraine.
In his remarks at the Munich Security Conference on Friday, Senate Minority Leader Mitch McConnell, Kentucky Republican, assured European allies that GOP leadership "overwhelmingly support a strong, involved America and a robust trans-Atlantic alliance."
"Don't look at Twitter, look at people in power," he said. "We are committed to helping Ukraine. Not because of vague moral arguments or abstractions like the so-called 'rules-based international order.' But rather, because America's own core national interests are at stake. Because our security is interlinked and our economies are intertwined."
Mr. Kirby also pushed back on the perception that Congress has become fractured.
"There are a small number of members on Capitol Hill in the House, Republicans specifically, that have expressed publicly their concerns about support for Ukraine," he said. "But if you talk to the House leadership, you won't hear that."
"There has been terrific bipartisan support through the entire year," Mr. Kirby added. "We're all doing it together and the support for Congress has really been extraordinary."
Still, he acknowledged that the president would be speaking, in part, to the American people during his address in Warsaw.
"The president well knows that whenever he speaks, he's speaking to people all around the world as well as, of course, the American people," he said. "I think you'll hear messages in the [resident's speech that will certainly resonate with the American people, certainly resonate with our allies and partners [and] without question resonate with Polish people who have done so much and continue to do so."
– Mike Glenn contributed to this story. 



Soruce : https://www.washingtontimes.com/news/2023/feb/18/joe-biden-rally-behind-ukraine-trip-natos-eastern-/?utm_source=RSS_Feed&utm_medium=RSS