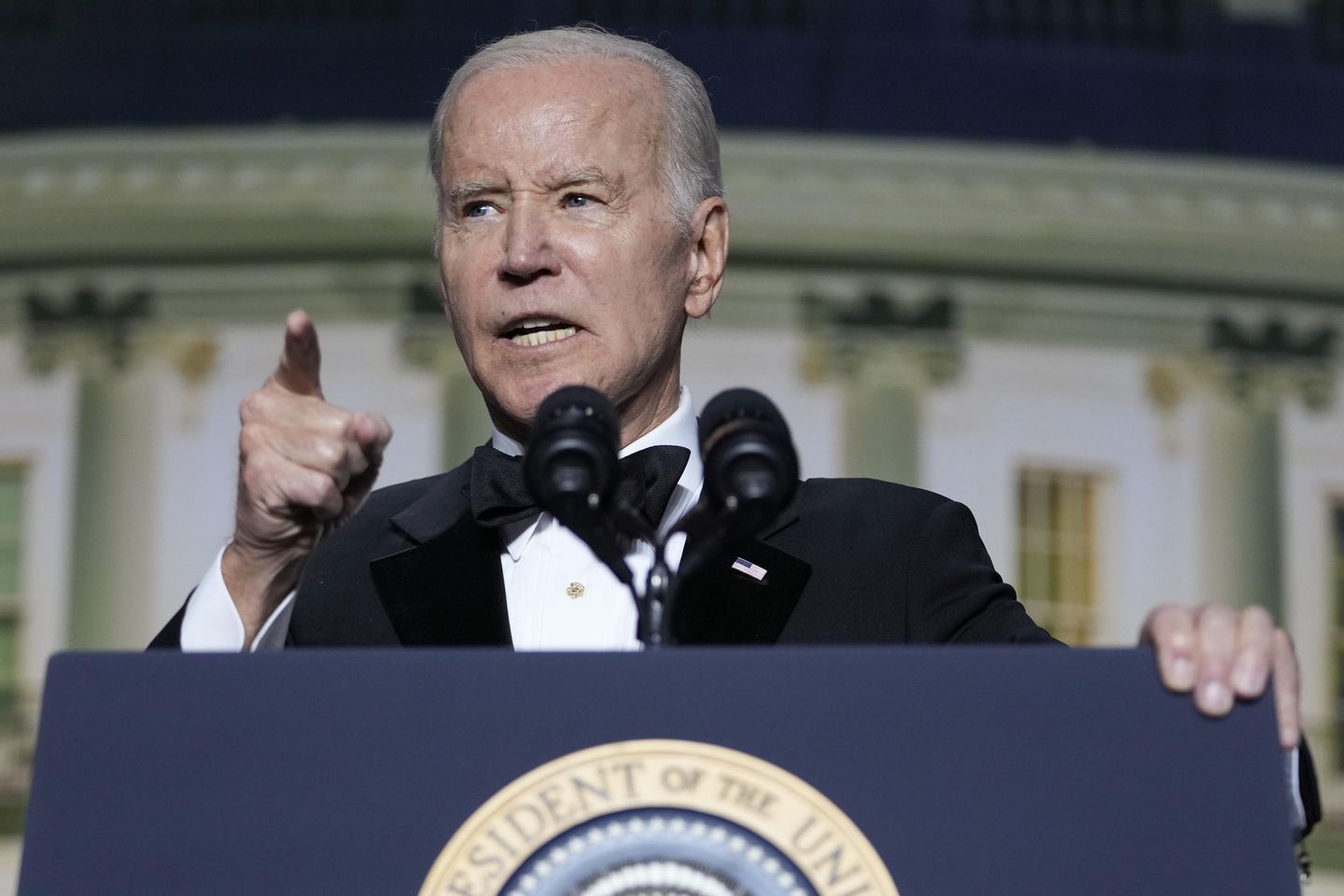 NEWS AND OPINION:
Yes, someone has deployed this telling descriptor, which of course dates back to "Watergate," the political scandal that troubled the administration of then-President Richard Nixon 50 years ago.
"BidenGate?" asks a new Rasmussen Reports poll released Thursday.
"New revelations from congressional investigators about foreign payments to President Joe Biden's family are a serious scandal, according to a majority of voters," says a Rasmussen Reports survey.
The poll found that 69% of likely U.S. voters think accusations of foreign influence peddling by Mr. Biden and his family are a "serious scandal" — including 52% who say it's a "very serious scandal."
About a quarter — 26% — don't think the accusations are a serious scandal, including 15% who say it's "not at all serious" with the rest undecided,
The survey of 982 U.S. likely voters was conducted on May 8-10.
THE BORDER HEADLINES
The unprecedented illegal-immigrant surge at the southern U.S. border following the eclipse of Title 42 — which previously kept the arrivals in check — gave the news media plenty to do.
The situation was subject to interpretation. A few sample headlines from the last 24 hours:
"Americans grade Biden's handling of the border crisis: An F on everything" (Fox News); "Soldiers will not prevent a border crisis" (The Hill); In major reversal, Biden resurrects Trump border policy" (Daily Wire); "Immigration disaster could spell doom for Biden re-election" (Boston Herald); "Texas border cities declare state of emergency ahead of Title 42 ending" (The New York Times); "As Title 42 expires, here's how your lawmakers want to fix the border crisis" (USA Today); "Biden's border bungling if a gift to Trump" (The Wall Street Journal); "Biden to take unprecedented measures to manage the border but concerns remain over end of Title 42" (CNN); and "Migrant detentions at U.S.-Mexico border hit record highs as Title 42 ends" (Reuters).
MOM FOREVER
Consumers plan to spend a total of $35.7 billion on Mother's Day this year, nearly $4 billion more than last year's record high of $31.7 billion, according to the annual survey released Thursday by the National Retail Federation.
Mom's day is popular: 84% of U.S. adults expect to celebrate the holiday. And they are generous.
Consumers plan to spend $274.02 per person, up from the previous record high of $245.76 in 2022, the organization said.
The top spenders are those ages 35-44, who are expected to spend an average of $382.26 on Mother's Day.
Of those celebrating Mother's Day, most (57%) are purchasing gifts for a mother or stepmother, followed by a wife (23%) or daughter (12%)
The survey of 8,164 U.S. adult consumers was conducted April 3-11 and released April 27.
LOSING INTEREST
High prices on everyday items used to shock shoppers and consumers not so long ago. That sticker shock is fading — which is not a good thing, some say.
"Last fall, Americans were obsessed with inflation. The issue dominated the midterm elections. One in five respondents called it the nation's most important problem, according to Gallup," writes Greg Ip, chief economics commentator for the Wall Street Journal.
"These days, their attention is elsewhere. Just 9% of Gallup respondents now call inflation the most important problem, behind government leadership and the 'economy in general' and just ahead of immigration and guns. It has barely come up in Washington's fight over raising the debt ceiling," Mr. Ip continued.
"Good news? Maybe not. It may mean people are getting used to higher inflation, which would be very bad news. The more people behave as if high inflation is here to stay, the likelier it is to stay. That would force the Federal Reserve to choose between inducing a potentially deep recession to force inflation lower, or giving up on its 2% inflation target," he said.
TRUMP: YAY OR NEIGH?
People for the Ethical Treatment of Animals (PETA) has a special request for former President Donald Trump.
"You were a hero for equines back in 1993, when you ended the Atlantic City diving mule show, and we hope you will step in and save the day for horses again. We understand that you own stock in the Anheuser-Busch InBev corporation. PETA has documented that the company is cruelly amputating the tailbones of its famous Budweiser Clydesdales just so they'll look a certain way," the organization advised Mr. Trump in a letter shared with Inside the Beltway.
The organization pointed out that the stylish but short tails can affect a horse's balance and leave the animal prey to flies and biting insects, among other things.
PETA also noted that the American Association of Equine Practitioners and the American Veterinary Medical Association both frown on shortening horse tails unless it's medically necessary.
"Budweiser presents the iconic Clydesdales as symbols of traditional American values, but harming horses is the antithesis of what Americans hold dear. Will you, as a shareholder in the company, speak with AB InBev executives and urge them to discontinue tailbone severing?" PETA asked Mr. Trump.
WEEKEND REAL ESTATE
For sale: Fully restored colonial revival home built in 1900 on historic Shady Avenue in Pittsburgh. Seven large bedrooms, six baths, luxurious owner's suite, multiple formal gathering rooms, original hardwood floors and ornate woodwork, soaring ceilings and windows; 5,325 square feet. Dual parlors, formal dining and living rooms, game room, seven fireplaces, state of the art chef's kitchen with heated floors and breakfast room. Large deck, two garages, manicured grounds and classic plantings. Priced at $1.3 million through Compass.com; enter 1592483 in the search function.
POLL DU JOUR
• 12% of U.S. adults would describe their personal political viewpoint as very conservative.
• 19% would describe their political viewpoint as conservative.
• 34% would describe their viewpoint as moderate.
• 16% would describe their viewpoint as liberal.
• 10% would describe their viewpoint as very liberal.
• 9% are not sure about their political viewpoint.
SOURCE: An Economist/YouGov poll of 1,500 U.S. adults conducted May 6-9.
• Contact Jennifer Harper at [email protected]. And a happy Mother's Day to all our moms out there.



Soruce : https://www.washingtontimes.com/news/2023/may/11/inside-beltway-bidengate-now-appears-and-69-poll-s/?utm_source=RSS_Feed&utm_medium=RSS