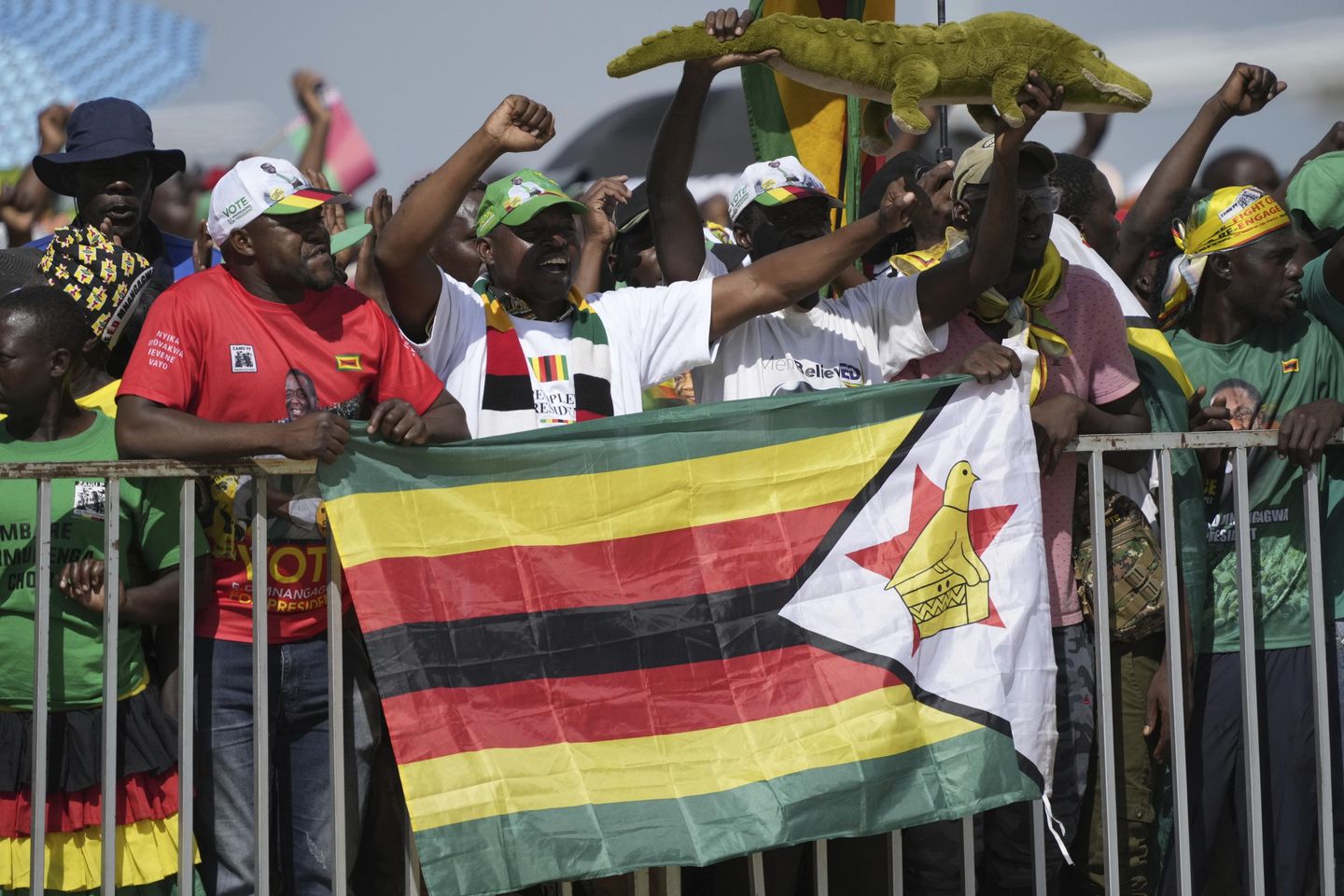 JOHANNESBURG, South Africa — For decades his father was one of the world's most feared dictators. Today, Robert Mugabe Jr. is on bail, pending a return to a Zimbabwean court on a charge of damaging property that could send him to jail.
His mother, Grace, has a warrant for her arrest across the border in South Africa where she is accused of assaulting a woman in Johannesburg. The alleged attack happened in 2017 and Mrs. Mugabe has not returned to South Africa since then. Under local law, unless the matter is resolved, the warrant will remain active until 2037.
The Mugabes are not alone. In Angola, Kenya and Mozambique, members of the one-time ruling dynasties are either in exile, prison or under investigation as new leaders try to claw back billions they claim were embezzled by the first family. 
In a sign of a change on the continent, having a famous last name no longer automatically confers political or legal immunity.
Angola, Africa's second-largest oil producer, won its independence from Portugal in November 1975. The late President Eduardo dos Santos ruled initially with a ban on all opposition parties and the press under state control. A series of civil wars devastated the country and with peace in 2002, the ruling People's Movement for the Liberation of Angola (MPLA) held onto power in what critics say were rigged elections.
Mr. dos Santos was one of the Soviet Union's closest allies in Africa and in his youth lived in Azerbaijan — then part of the USSR — where he married a local woman. His daughter, Isabel, is a dual national of Angola and Russia and in the latter years of her father's rule, took charge of the state-owned oil company, Sonangol.
But an ailing Mr. dos Santos retired in 2017 and his replacement and long-time rival within the MPLA, Joao Lourenco, pledged "to remake Angola." His first target: the former ruling family.
Angola has an Interpol "red notice" against Ms. dos Santos, who it claims moved more than a $1 billion to Malta, Dubai, and Portugal. In December 2021, the Biden administration banned her from traveling to the U.S., citing "significant corruption by misappropriating public funds for her personal benefit."
In an interview, Ms. dos Santos said the accusations are political and has hinted at running for president from exile in the Middle East. A court in Luanda, Angola's capital, recently threw out a number of charges against her for lack of evidence. This has not slowed efforts by the Lourenco government to investigate the family.
Before the freeze on her bank accounts, Forbes Magazine ranked her "the richest woman in Africa" with a net worth of $2 billion.
Ms. Dos Santos told The Washington Times she has no doubt that her name will be cleared. "The judgment in Luanda was only the first step. My father was president and I have been successful in business. Some people put those facts together and imagine I must have done something wrong, but time will show the case against me has no substance."
Since coming to power, President Lourenco has placed members of his own family in senior positions within the government.
In Mozambique, Armando Guebuza, who served as president from 2005 to 2015, earned the nickname "Mr. Gu-business" amid claims that any deal could be done so long as it had the blessing of the president. Among these was a widely questioned $2 billion purchase of naval and fishing boats from a Lebanese firm.
Current Mozambique President Filipe Nyusi ordered an investigation and court cases have been heard in Mozambique, the U.S. and Britain. Among those caught in the investigative sweep was Mr. Guebuza's son, Ndambi — a Mozambique court in December jailed him for 12 years on charges of embezzlement and money laundering.
The notion of those close to the ruling party being investigated for wrongdoing would have been unthinkable while Mugabe, dos Santos and Mr. Guebuza were in power, but times have changed. Donors and investors demand a higher degree of transparency, and those taking over from strong leaders may feel a need to show they are in charge.
East Africa's best-known dynasty was established by independence leader Jomo Kenyatta, who came to power in 1963 after decades agitating against British colonial rule. The move paid off handsomely for the family: Kenyatta's daughter, Margaret, became mayor of Nairobi and his son, Uhuru, served as president for nearly a decade before stepping down in 2022. But Uhuru Kanyatta fell out with his vice president and chosen successor, William Ruto, and backed a rival candidate, a move that backfired when Mr. Ruto won.
Since he left office, even the Kenyatta name has not been able to shield him from criticism. Local media have blamed Uhuru Kenyatta for a national debt that doubled under his tenure — much of it to China — while unemployment soared. There have also been questions over how his family became one of the wealthiest in Africa.



Soruce : https://www.washingtontimes.com/news/2023/mar/24/africa-powerful-name-no-longer-guarantees-protecti/?utm_source=RSS_Feed&utm_medium=RSS