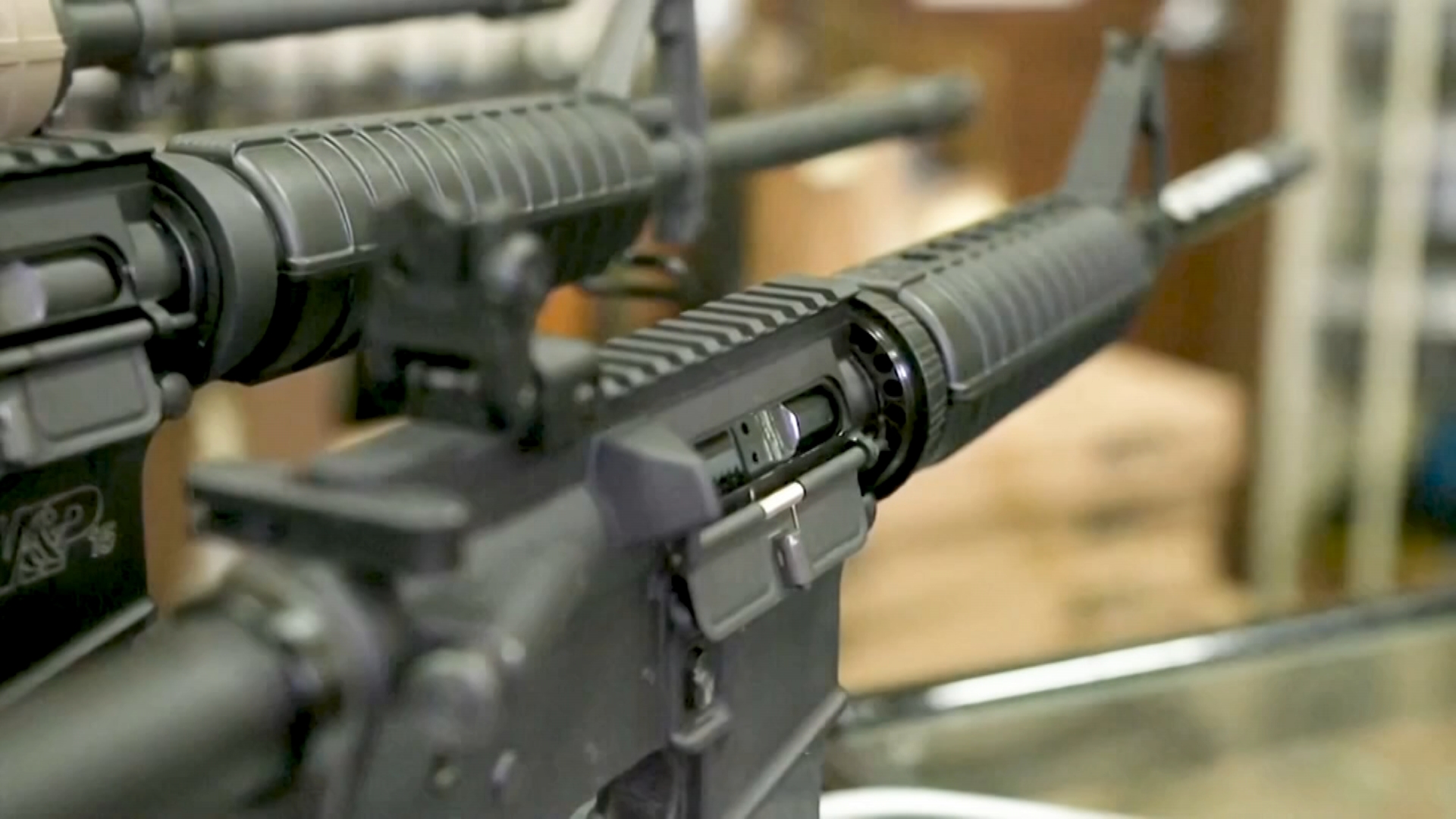 Illinois' week-old assault weapons ban on Wednesday will face its first of many promised legal challenges as a group of more than 800 plaintiffs in downstate Illinois are hoping to prevent HB 5471 from being implemented.
According to court documents, the suit, filed on behalf of more than 860 plaintiffs in Effingham County, claims the law violates several constitutional rights.
An emergency hearing is scheduled for 11 a.m. in Effingham County, as the suit seeks a temporary restraining order "to restore [the plaintiffs'] constitutional right to bear arms while this matter proceeds through the Courts," a press release from the law office representing the plaintiffs said.
Filing documents show former Republican attorney general candidate Thomas DeVore is on the legal team leading the charge.
"We will see Gov Pritzker in court tomorrow," DeVore tweeted Tuesday. "No longer can the citizens sit idly by while bureaucrats destroy the very foundational fabric of our great Republic. It's an honor of my lifetime to play a role in representing the People against tyranny."
Wednesday, a second lawsuit was filed in Crawford County in the southeastern part of the state, that say the bill not only violates the Second Amendment right of citizens to bear arms — but it also goes a step further, alleging the state violated Fifth Amendment rights against self-incrimination, and 14th Amendment rights of equal protection.
The Illinois State Rifle Association has also promised to file its own suit against the bill.
"The ISRA leads the charge in opposing Illinois' new gun legislation, which we believe to be unconstitutional," a statement from Richard Pearson, Executive Director of the ISRA said Tuesday. "We will be filing a federal lawsuit imminently."
What the Illinois Assault Weapons Ban Says
The legislation bans the delivery, sale and purchase of any assault weapons in the state, and affects dozens of specific brands or types of rifles and handguns, .50-caliber guns, attachments and rapid-firing devices.
Additionally, no rifle will be allowed to accommodate more than 10 rounds, with a 15-round limit for handguns, the bill says.
Those who already own such guns will have to register them, including serial numbers, with the Illinois State Police. The new law enables merchants to sell or return current stock and Illinois-based manufacturers can sell their wares outside Illinois or to law enforcement.
A report from the Associated Press says eight states and the District of Columbia currently have bans on semiautomatic weapons, according to Tanya Schardt, working in favor of the legislation for the Brady Campaign. They differ in their definitions of semiautomatic weapons, but generally they ban 10-round clips for long guns and handguns. The bans have survived constitutional challenges in scores of courts, she said.
Five states — California, Connecticut, Hawaii, New Jersey and New York — require registration of guns purchased previous to the law, Schardt said. The other three states with bans are Delaware, Maryland and Massachusetts.
Registration often angers current owners but most tolerate the collection of information, Schardt said.
The legislation also provides protection. If police stop a car driven by a semiautomatic gun owner, for example, they can instantly check to ensure it's legally owned. And it allows law enforcement to trace a gun that, for example, is stolen and used in a crime.
Sheriffs Say They Will Not Comply With the Bill
Sheriffs in dozens of counties, including McHenry, DuPage, Kankakee, Boone and Winnebago have said their departments will not enforce provisions of the bill that require existing weapons to be registered with the State Police.
Their arguments center around their stance that the bill, which makes it illegal for Illinois residents to purchase, transfer or manufacture assault weapons and extended magazines, violates the Second Amendment.
"Neither myself nor my office will be checking to ensure that lawful gun owners register their weapons with the state, nor will we be arresting or housing law abiding individuals that have been charged solely with non-compliance with this act," McHenry County Sheriff Robb Tadelman said, in a message posted to social media.
DuPage County Sheriff James Mendrick also released a statement, saying that his deputies will not arrest anyone who does not comply with the new law, and that he will not be checking to be sure gun owners are registering their weapons with the state.
In response, a letter signed by 16 DuPage-area legislators said called Mendrick's statement a "dereliction of duty" that puts the safety of DuPage residents at risk.
"The Sheriff's words send a clear message that lawbreakers are welcome here," the letter read in part. "Should any related tragedy occur within our borders, not only will he bear responsibility for the resulting and everlasting scars upon our community, but he also will put our livelihoods and property tax dollars at risk, as his declaration now opens us up to financial liability."
Pritzker, who in an interview with MSNBC called the statements by sheriffs "grandstanding," says he is confident that the new bill will withstand legal scrutiny, and says that sheriffs are required by their oath of office to enforce the law.
"It's our state police and law enforcement across the state that will, in fact, enforce this law, and these outlier sheriffs will comply or, frankly, they'll have to answer to the voters," Pritzker said.



Soruce : https://www.nbcchicago.com/news/local/illinois-assault-weapons-ban-faces-first-lawsuit-from-group-of-more-than-800-plantiffs/3048111/