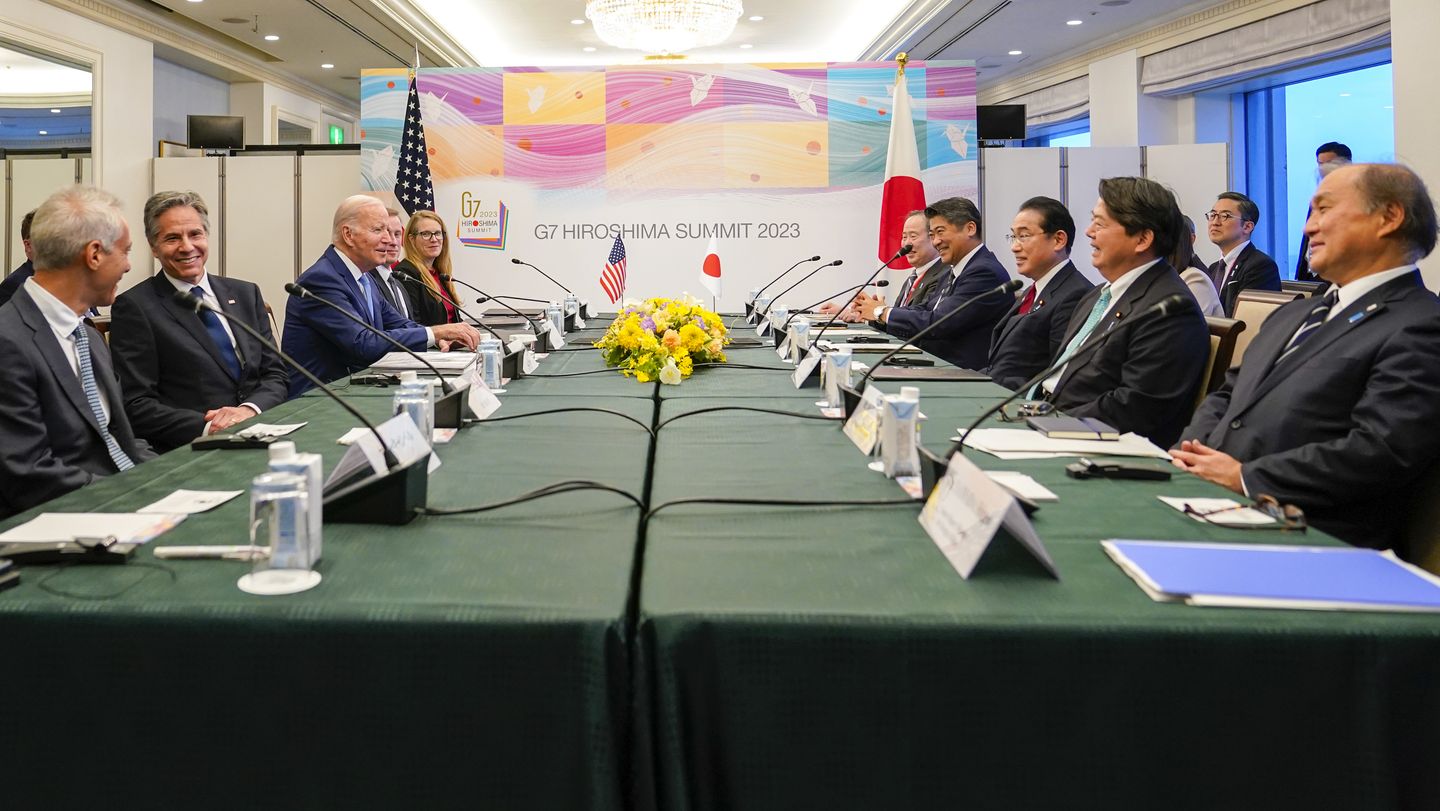 The leaders of the world's seven largest economies will announce new sanctions on Russia at their summit in Japan in the latest effort to force Moscow to end its war in Ukraine, a senior White House official said.
While the existing sanctions on Russia are some of the toughest ever imposed, the results so far have been mixed.
The penalties have left Moscow financially isolated and shunned by its key trading partners. But the predictions of economic ruin have not materialized as Moscow's economy shrank by only 2.1% in 2022, and the penalties have done little to stop Russian President Vladimir Putin's relentless assault on Ukraine.
The new measures announced by members of the so-called Group of Seven, or G-7, will target sanction evasions involving third countries, aim to undermine Russia's future energy production and halt trade that supports Russia's military, the official said.
G-7 members will also automatically ban certain categories of goods from being to Russia unless they are on a list of approved items.
That is a key victory for the Biden administration, which pressed its Western allies to reverse the current policy that allows all goods to be sold in Russia unless they are explicitly blacklisted.
In addition to the sanctions imposed by the G-7 nations, the Biden administration will roll out its own package of penalties. The U.S. will target roughly 300 entities, vessels and aircraft, as well as clamp down on sanction evasion involving third countries, according to the official.
The official did not get into specifics about the latest round of sanctions, but said the package is a "significant" effort to hamper Russia's ability to wage war. It also underscores that all of the G-7 members — the United States, Canada, Japan, the United Kingdom, France, Germany and Italy — are on board with the package.
"I do think what you will see is, again, a historic degree of unity across the G7," the official said during a telephone briefing with reporters.
Enhancing the enforcement of existing sanctions and tightening sanction evasion, especially those involving other countries, has been a key focus of the G-7 members during the three-day summit in Hiroshima, Japan.
Earlier this week, the G-7 finance ministers and central bank governors issued a joint statement to counter "any attempts to evade or undermine our sanctions."



Soruce : https://www.washingtontimes.com/news/2023/may/18/g-7-leaders-announce-new-sanctions-russia/?utm_source=RSS_Feed&utm_medium=RSS