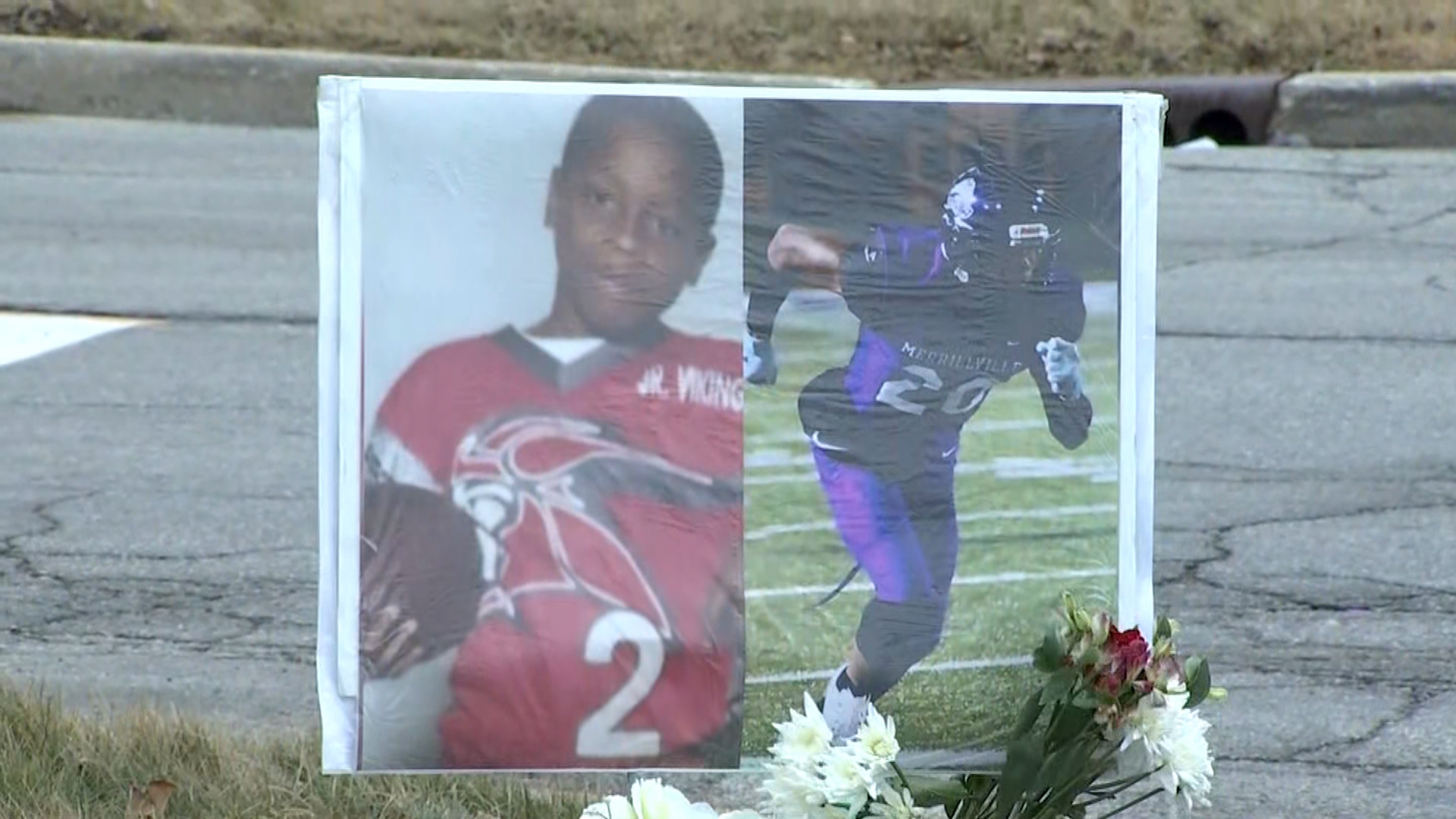 Johnny Hall and his family are still trying to come to grips with the shooting death of 18-year-old Jonathan Brown, with the killing cutting short the young man's dreams of football stardom.
Jonathan is Johnny's grandson, and he says he has struggled to sleep since the Friday shooting.  
"I feel very very sad about it," he said. "I lost sleep. you know, i just…had dreams for him to be successful, just see him one day running across the TV.
Friday night, the Merillville High School senior was shot and killed outside of a Buffalo Wild Wings restaurant near 175th Street and Halsted in suburban Homewood.
Brown's family visited the growing memorial for a young man, who was passionate about playing football.
"That's all he thought about was football, growing up to be a pro athlete," Johnny said. "He wanted to dedicate his life to football."
Merrillville football coach Brad Seiss says Brown's love for football started with playing in a Pop Warner league, adn only crew from there. Seiss says right before starting high school, Brown moved to Homewood, where the 18-year-old played his first three seasons of high school football.
He returned to Merrillville for his senior season, which only just concluded a few months ago. "You could tell being back with his buddies that he went to elementary and in middle school with, you know, just kind of the joy of playing and all that you can tell you really enjoyed being back at Merrillville and playing for the Pirates," Seiss said.
The coach said Jonathan played safety and was on special teams, describing the teen as a good player who had dreams of playing beyond high school.
"He was planning on trying to play the next level," Seiss said. "(He) didn't have anything, you know, concrete or anything like that yet, but he would have had the chance to go play small college football."
Now, as the teen's family prays that police find the person responsible for his death, his coach wants to make sure that his players can cope with this loss to their team.
"I think the big thing is for us is to remember him and and honor him and work hard for him," he said.
Homewood police say another 18-year-old was also injured during this shooting. He was treated and released from the hospital.
No one is in custody, and the investigation remains underway.

Soruce : https://www.nbcchicago.com/news/local/family-mourns-shooting-death-of-merrillville-football-player/3047807/