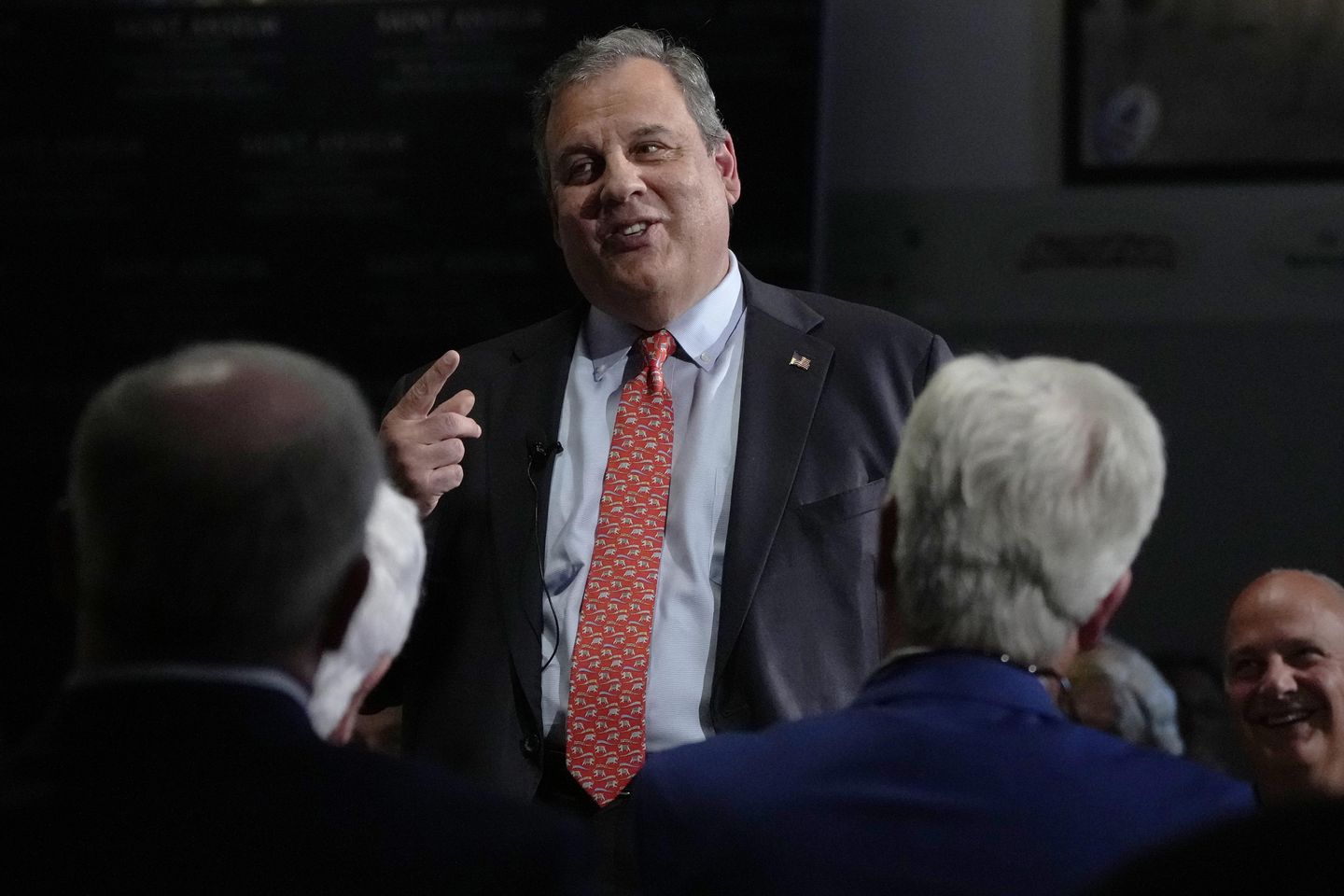 Former New Jersey Gov. Chris Christie announced Tuesday he's running for the Republican presidential nomination, targeting frontrunner and former President Donald Trump as a "lonely, self-consuming, self-serving mirror hog" who falsely believes he owns the Republican base.
Mr. Christie, 60, kicked off his candidacy at a town hall event in New Hampshire, which is expected to hold the GOP's first-in-the-nation primary early next year and will be most amenable to his moderate GOP politics. Mr. Christie touted his two terms as governor of deep blue New Jersey, where he said he navigated the divided government by learning to negotiate and compromise.
"I'm not going to be one of those guys who's going to say my way or the highway and if not, I"m going to go back to the Oval Office and will ignore you," Mr. Christie said.
---
---
Mr. Christie placed sixth in the 2016 New Hampshire presidential primary. He dropped out of the race soon after and endorsed Mr. Trump. 
But he has since soured on the former president and is now among his most vocal Republican critics.
On Tuesday he made it clear that, unlike the rest of the GOP field, whom he criticized for not specifically attacking Mr. Trump, Mr. Christie said he'd call out Mr. Trump by name. He said if elected president, he would end the stark political divide that he believes the former president has encouraged.
He joins a GOP primary field that has grown to a dozen candidates, including Florida Gov. Ron DeSantis, former Vice President Mike Pence, former U.N. Ambassador Nikki Haley and Sen. Tim Scott of South Carolina.
Mr. Christie said he believes he can win over Mr. Trump's voters.
"I don't have a specific strategy," Mr. Christie said. "I'm going to be myself."
Even though Mr. Christie endorsed Mr. Trump and backed him at times throughout his presidency, he said he knew that Mr. Trump was telling voters "baloney" in 2016 and that his term fell short by not building the wall on the southern border that he had promised Mexico would pay for.
He blamed Mr. Trump for losing to Mr. Biden in 2020 despite Mr. Biden's weaknesses. Mr. Trump lost because the public was fed up with his lying and narcissism, Mr. Christie said.
"Joe Biden wouldn't be in office if it wasn't for Trump," he said.
Mr. Christie's decision to aggressively target Mr. Trump distinguishes him from an increasingly crowded field of GOP candidates.
He has already delivered broadsides against Mr. Trump in New Hampshire, where he began holding political events in April.
He told attendees at the town hall event in Henniker, N.H., that his appearance marked "the beginning of the case against Donald Trump," and pledged not to dodge and weave around Mr. Trump as most of the GOP field has done so far.
"In American politics you want to beat somebody? You have to go get them," he said.
Mr. Christie's bid to win the nomination remains a long shot.
Polling shows him with 1% of support in the Granite state, compared to 41% for Mr. Trump and 23% for Mr. DeSantis, who is considered Mr. Trump's biggest threat in the race for the Republican nomination.
Republican political consultant Doug Heye said despite Mr. Christie's meager poll numbers, he has the potential to inflict damage on any of the candidates, including Mr. Trump.
"Chris Christie is good at popping balloons, and we saw that in 2016," Mr. Heye said.  "We know that he's very talented at that, and that he's too talented not to have a moment that catches everyone's attention."
Mr. Christie is often credited with kneecapping the 2016 presidential aspirations of Sen. Marco Rubio when, during a GOP primary debate, he zinged Mr. Rubio for being unprepared and relying on "the 25-second memorized speech."
Although Mr. Christie has already delivered attacks against Mr. Trump this year, Mr. Trump's poll numbers have remained strong.
In spite of his criticism and plans to even more aggressively attack the former president, Mr. Trump's allies welcomed Mr. Christie into the race.
In a statement from Mr. Trump's aligned super PAC, Make America Great Again Inc., spokeswoman Karoline Leavitt said Mr. Christie's entry into the race signals the weakness of Mr. Trump's number-one opponent, Mr. DeSantis.  The Florida governor is the only GOP candidate other than Mr. Trump polling in double digits, but trails the former president by at least 20 points in most polls.
"Ron DeSantis' campaign is spiraling, and President Trump's dominance over the Republican primary field has opened a mad rush to seize the mantle for runner-up,"   Ms. Leavitt  said. "Ron DeSantis is not ready for this moment, and Chris Christie will waste no time eating DeSantis' lunch."
Pollster Jim McLaughlin, who has conducted surveys on behalf of the Trump campaign, said Mr. Christie will have difficulty using his 2016-style attack strategy to weaken Mr. Trump, in part because the former president enjoys high approval ratings.
Mr. Christie, on the other hand, is suffering from low approval ratings.
A Monmouth University poll taken in May of 655 voters who identify or lean Republican found Mr. Trump with a 77% favorable rating, compared to a 21% approval rating for Mr. Christie.
"He's a different Trump and Christie is a different guy" than in 2016, Mr. McLaughlin said. "What's Christie's message? I'm not Trump? That doesn't sell in a GOP primary."
DeSantis backers on Tuesday shrugged off Mr. Christie's entry into the race and said their candidate is gaining momentum and is organized on the ground in Iowa, New Hampshire and South Carolina, three of the key early-voting states.
"This is a two-man race between Governor DeSantis and Trump – with momentum building behind the governor and the former president running scared," said Jess Szymanski, a spokeswoman for the DeSantis-aligned Super PAC Never Back Down.
Mr. Christie told supporters his decision to make a big part of his campaign about attacking Mr. Trump is based on his belief that there is no other way to secure the nomination.
"It's the way to win," Mr. Christie said. 



Soruce : https://www.washingtontimes.com/news/2023/jun/6/chris-christie-takes-aim-donald-trump-longshot-whi/?utm_source=RSS_Feed&utm_medium=RSS