A woman and three young children are in critical condition after the home they were in on the northwest side of Chicago caught fire late Tuesday night, officials say.
According to the Chicago Fire Department, firefighters and police responded to a fire at approximately 9:10 p.m. Tuesday at a residence in the 2500 block of North Rutherford, in Chicago's Montclare neighborhood.
Chicago police confirmed that a woman, 34, and three young children — a boy, 7, and two girls, ages 7 and 2, all suffered smoke inhalation as a result of the blaze and were transported to various hospitals in critical condition.
According to officials, all four remain in critical condition as of early Wednesday morning.
Photos and video from the scene show a fire truck parked on a residential street, with more than a dozen and fire and police responders gathered in front of a home near the corner of Rutherford Avenue and Altgeld Street.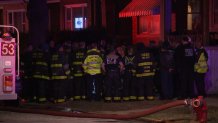 According to officials, the cause of the blaze is currently being investigated by The Chicago Fire Department's Office of Fire Investigation.
This story will be updated as more information becomes available.

Soruce : https://www.nbcchicago.com/news/local/chicago-fire-home-montclare-injuries-smoke-inhalation-chicgo-fire-department/3089036/