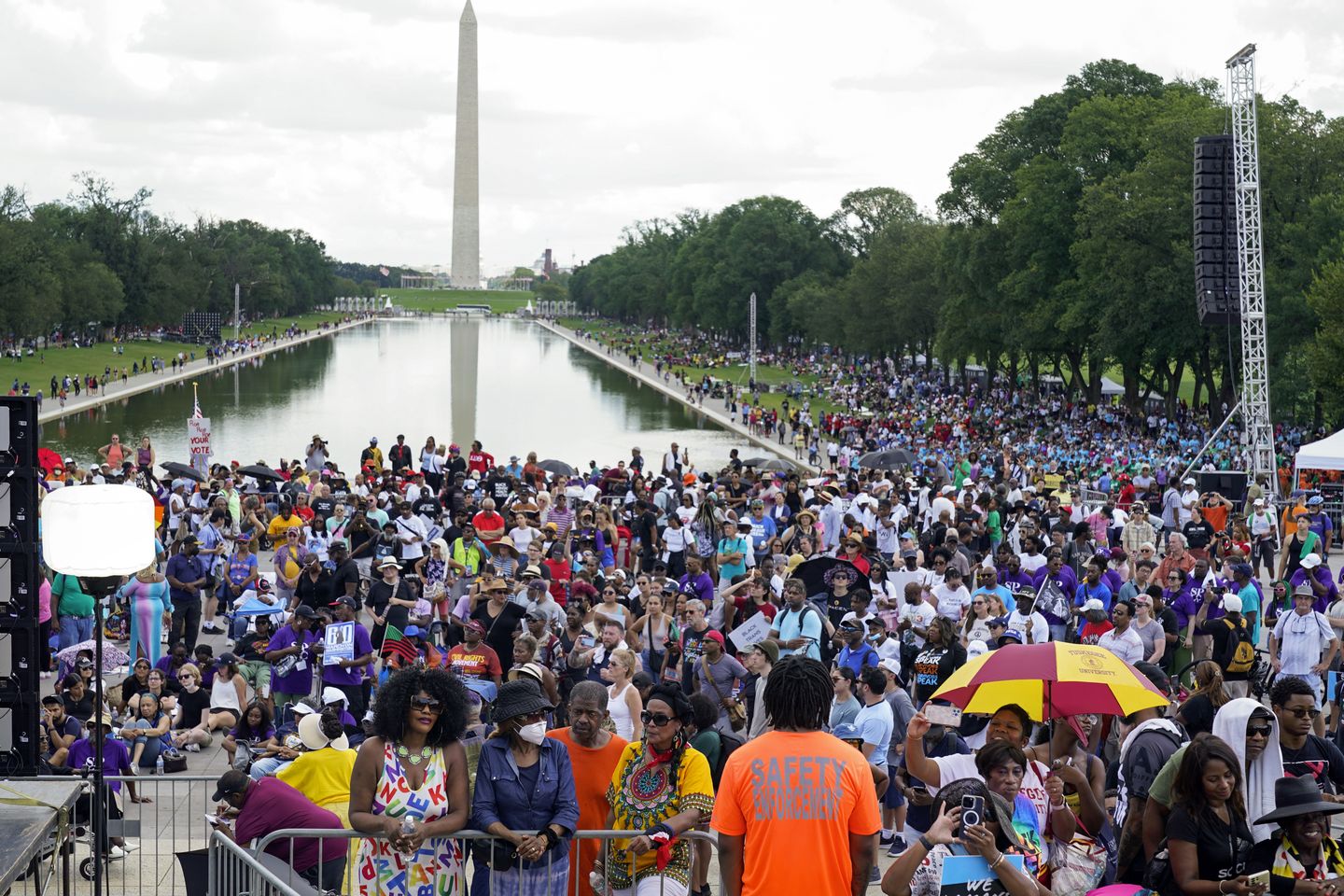 Thousands gathered on the National Mall on Saturday to commemorate the 60th anniversary of the March on Washington, with speakers championing progress but warning that more work needs to be done to fulfill the dream of Martin Luther King Jr.
A crowd gathered in front of the Lincoln Memorial to hear civil rights activists, lawmakers and entertainers deliver the message that the anniversary was not meant to be a commemoration, but rather a continuation of the work spurred by the civil rights movement in the 1960s.
The actual anniversary of the march will be on Monday, when President Biden and Vice President Kamala Harris will host a meeting with members of the King Family.
---
---
But on Saturday, the King family expressed unease for the future of the country.
"I'm very concerned about the direction our country is going in," Martin Luther King III said. "And it is because instead of moving forward, it feels as if we're moving back. The question is, what are we going to do?"
If she could have spoken to her grandfather, Yolanda Renee King said, she would say "I'm sorry."
---
SEE ALSO: David Hogg calls for Gen Z to run for office during 60th anniversary of civil rights march
---
"We still have to be here to rededicate ourselves to finishing your work and ultimately realizing your hidden dream," she said. "Sixty years ago, Dr. King urged us to struggle against the triple evils of racism, poverty and bigotry. Today, racism is still with us. Poverty is still with us. And now, gun violence has come for our places of worship, our schools and our shopping centers."
A handful of Democratic lawmakers spoke at the event, including House Democratic Minority Leader Rep. Hakeem Jeffries of New York.
Mr. Jeffries said America is at a crossroads in an "existential struggle between enlightened people and extreme people."
"We're going to keep pushing, we're going to keep advocating, we're going to keep demonstrating," he said. "We will not rest until we reach the promised land of liberty and justice for all."
Ashley Sharpton, civil rights activist and daughter of Rev. Al Sharpton, said supporters of King's dream needed to turn "demonstration into legislation."
Mr. Sharpton, who closed out the slate of speakers before gathering the crowd to march to the Martin Luther King Jr. memorial, railed against the recent Supreme Court ruling that effectively barred affirmative action in college admissions, Republicans' efforts to limit access to abortion, and discrimination against members of the LGBTQ community.
"The dreamers are fighting for voting rights. The schemers are changing voter regulations in states," he said. "The dreamers are standing up for women's right to choose. The schemers are arguing whether they are going to make you stop at six weeks or 15 weeks."



Soruce : https://www.washingtontimes.com/news/2023/aug/26/activists-lawmakers-voice-concern-over-direction-c/?utm_source=RSS_Feed&utm_medium=RSS